February 04, 2023
2023 the year for women artists? Exhibitions we can't wait for in 2023.
Article by Mollie Barnes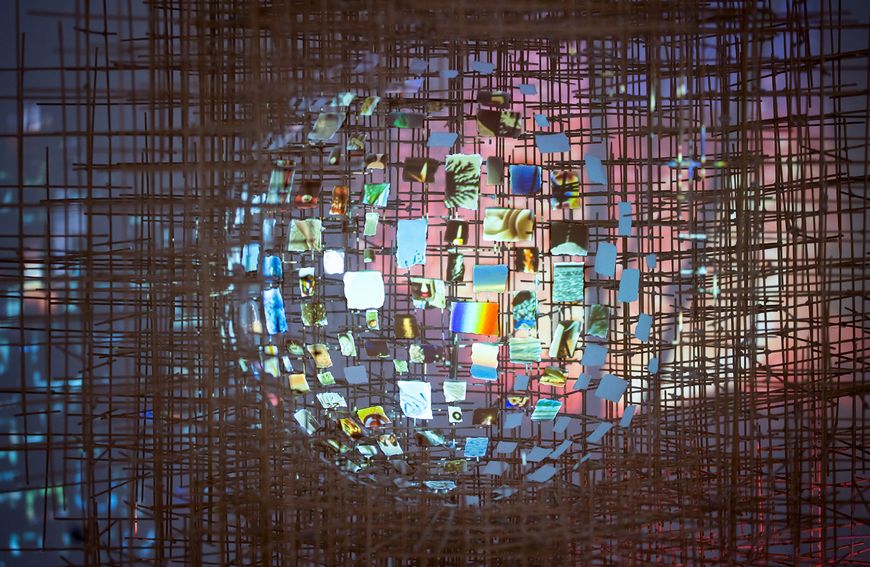 Sarah Sze, Timelapse. Solomon R. Guggenheim Museum, New York.
2022 saw some incredible steps forward for women in the arts: The Venice Biennale saw – for the first time – women outnumbering male artists in the main hall; Sonia Boyce won a Golden Lion for her British Pavilion exhibition; Incredible literature was published, reaching international headlines, including Katy Hessel's The Story of Art Without Men; Artist Veronica Ryan was announced as the winner of the Turner Prize; Major solo exhibitions included Louise Bourgeois, Sheila Hicks and Allison Katz. 
2023 has some work to do to live up to its predecessor (and move beyond!). The year ahead has already promised exceptional exhibitions celebrating incredible talent. Here are just some of the international art exhibitions we are excited for in 2023!
GROUP EXHIBITIONS
Women in Revolt! – Tate Britain, London
8 November 2023 – 7 April 2024
Tate Britain presents us with a first of its kind: a major survey of over 100 British women artists ranging from 1970 – 1990. This incredible group of artists will explore events and issues such as the visibility of Black and South Asian Artists, the Peace Movement and Section 28. We can't wait for this one. 
Women on Paper – Rijksmuseum, Amsterdam
3 December 2022 – 5 June 2023
With a reflective aim of making the collection more balanced, the Rijksmuseum is presenting over four centuries of female artists who have left their mark on the history of art. Spread throughout five rooms in the gallery, the exhibition features works from Kathe Kollwitz, Berthe Morisot, Cornelia de Rijck and many, many more. 
Muse or Maestra? Women in the Italian Art World, 1400–1800 – Kupferstichkabinett, Berlin
8 March 2023 – 4 June 2023
This exhibition will shed light on the role, impact and importance of women in Italian art before 1800 through drawings and prints from the acclaimed Kupferstichkabinett collection. Artists include Artemisia Gentileschi, Isabella d'Este and Diana Scultori among many more. 
Action, Gesture, Paint: Women Artists and Global Abstraction 1940–70 – Whitechapel Gallery, London
9 February 2023 – 7 May 2023
Another mammoth show – over 150 paintings and 81 international women artists exploring Abstract Expressionism. Whitechapel Gallery is here showcasing the international talents working with abstraction after World War II. What an incredible show. 
Women Pioneers: Visionary Landscapes – Prins Eugen's Waldemarsudde, Stockholm
4 March 2023 – 20 August 2023
Anna Boberg, Ellen Trotzig, Charlotte Wahlstrom and Ester Almqvist will be exhibited within Women Pioneers: Visionary Landscapes in Stockholm's gallery. Together, the four artists were pioneers and visionaries of landscape painting. 
RE/SISTERS – Barbican Art Gallery, London
5 October 2023 – 14 January 2024
2023 truly is the year for mega exhibitions! RE/SISTERS at the Barbican will feature 50 international women and gender non-conforming artists across film and photography. Together, these artists explore a range of themes, including environmental and gender justice, challenging existing power structures and activism. 
Vitality and Continuity: Art in the Experiences of Anishinaabe, Inuit and Pueblo Women – Detroit Institute of Arts, Detroit
21 January 2023 – 6 January 2024
The Detroit Institute of Arts is celebrating the roles and experiences of Anishinaabe, Inuit, and Pueblo Women within the art world, their families and their communities. Artists include Kenojuak Ashevak (Inuit), Kelly Church (Gun Lake Band of Potawatomi/Grand Traverse Ottawa/Chippewa descent), Maria Martinez (San Ildefonso), among many others. 
Her Brush: Japanese Women Artists from the Fong-Johnstone Collection – Denver Art Museum, Denver
26 July 2022 – 13 May 2023
Some of these works have never been seen before! Her Brush traces the pathways of Japanese women artists in their pursuit to be an artist, as well as the drive for artistic expression.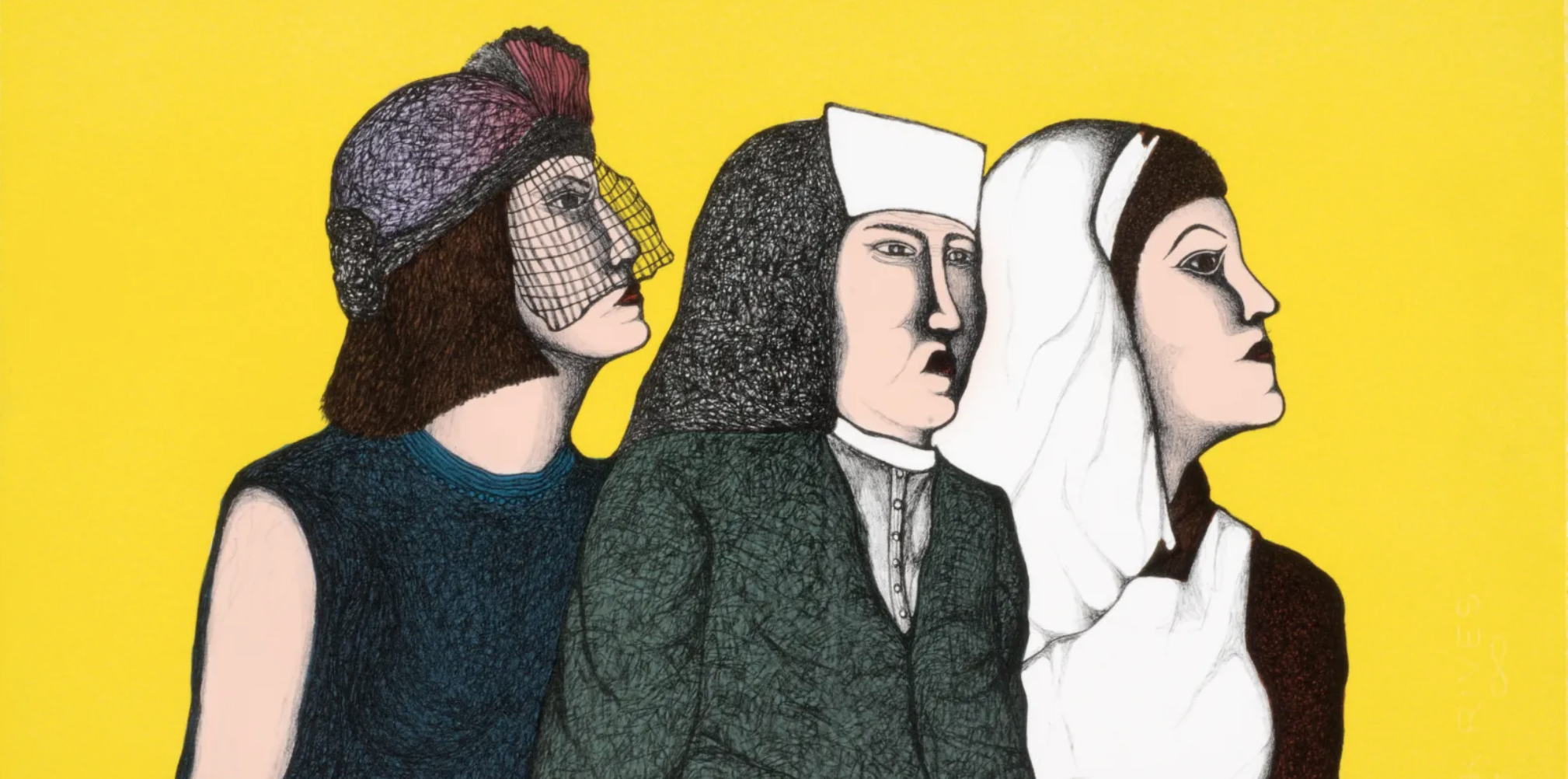 Pitaloosie Saila, Strange Ladies, 2026. Vitality and Continuity Art in the Experiences of Anishinaabe, Inuit, and Pueblo Women, Detroit Institute of Arts.
SOLO EXHIBITIONS
Ming Smith: Projects – MoMA, New York City
4 February 2023 – 29 May 2023
Organised by iconic curator Thelma Golden, Ming Smith's works will be exhibited in the street-level galleries. She is the first black woman artist to have a photograph acquired by MoMA. 
Sara Sze: Timelapse – Guggenheim, New York City
31 March 2023 – 10 September 2023
We can't wait to see this series of site-specific installations by New York-based-artist Sarah Sze. Sarah's works cross many mediums, including videos, printmaking, drawing, sculpture and painting. This is one not to miss!
Jaune Quick-to-See Smith: Memory Map – Whitney Museum, New York City
19 April 2023 – 1 August 2023
Native American artist Jaune Quick-to-See Smith is exploring contemporary debates and contemporary ways of understanding Native American Art in the context of the United States. The exhibition is bringing together almost five decades of her works. Coming this spring! 
Katharina Cibulka: Look Out – The National Museum of Women in the Arts, Washington DC
24 October 2022 – 30 April 2023
The National Museum of Women in the Arts is showcasing Australian artist Katharina Cibulka's stand out works across their facade. The works address gender-imbalances across the world, examining inequality and power structures. 
Wangechi Mutu: Intertwined – New Museum, New York City
2 March 2023 – 4 June 2023
This is a major upcoming solo exhibition of over 100 works from Kenyan artist Wangechi Mutu, exploring themes of legacy of colonialism, the African diaspora and globalisation. 
Paula Rego: Crivelli's Garden – The National Gallery, London
20 July 2023 – 29 October 2023
This incredible exhibition will celebrate the incredible connections between Dame Paula Rego and the National Gallery after her time as a resident artist. The much anticipated exhibition promises to be a tribute to her artistic life. 
Maria Berrio: The Children's Crusade – ICA Boston, Boston
16 February 2023 – 6 August 2023
One of our all time favourite artists, Maria Berrio is exhibiting a series of new and existing works, blending the history of the Children's 1212 Crusade with the mass movement of people today. 
Lavinia Fontana: Trailblazer, Rule Breaker –  National Gallery of Ireland, Ireland
6 May 2023 – 27 August 2023
Opening in May 2023, Lavinia Fontana: Trailblazer, Rule Breaker highlights the extraordinary life of this lesser known female artist. This exhibition is the first solo exhibition of Fontana's work in over twenty years. 
Simon Leigh – ICA Boston, Boston
6 April – 4 September 2023
This exhibition at the ICA Boston will be the first comprehensive survey of Simon Leigh's works, including her Venice Biennale presentation. 
Alice Neel: Hot Off The Griddle – Barbican Art Gallery, London
16 February 2023 – 21 May 2023
This showcase of American artist Alice Neel will be her largest solo exhibition yet in the United Kingdom. We are excited to see the over 70 exhibited works of Neel's, including portraiture, photography and film. 
Sofonisba Anguissola: Portraitist of the Renaissance – Rijksmuseum Twenthe, Amsterdam 
11 February 2023 – 11 June 2023
This exhibition will be the first solo exhibition celebrating the life of Sofonisba Anguissola in the Netherlands. Anguissola was one of the most talented artists of the 16th Century, and described as 'The most glorious female painter in Europe.' We are excited to see such an impressive survey of her works!
Sarah Lucas – Tate Britain, London
28 September 2023 – 14 January 2024
One of our all time favourite artists! Sarah Lucas is internationally celebrated, with this exhibition presenting her provocative, diverse practice within the Tate Britain. Her works are equally humorous, daring and beautiful. 
Marina Abramović  – Royal Academy of Arts, London
23 September 2023 – 10 December 2023
Marina Abramovic is undoubtedly one of the best known performance artists in the world. This exhibition in the Royal Academy in London spans her entire life's work in the first exhibition of its kind in the UK. Works will even include re-performances of iconic works. 
Carrie Mae Weems – Barbican Art Gallery, London
21 June 2023 – 3 September 2023
One of the most impressive photographers in the world, Carrie Mae Weems's first major UK exhibition is coming to the Barbican in 2023. Exploring identity, social justice, class, race and power, this exhibition will feature film, objects, installations and photographs across the last three decades. 
Berthe Morisot, Shaping Impressionism – Dulwich Picture Gallery, London
31 March 2023 – 10 September 2023
Following last year's incredible exhibition, Reframed: The Woman in the Window, Dulwich Picture Gallery continues to champion the works of women artists with the solo exhibition of Berthe Morisot, Shaping Impressionism. This will be her first major UK exhibition of her work since the 1950s. 
Artemisia Gentileschi in Naples – Gallerie d'Italia, Naples
3 December 2022 – 19 March 2023
This solo exhibition of artist Artemisia Genileschi is dedicated to her long stay in Naples between 1638 and 1654. This exhibition is created in collaboration with the National Gallery, London, featuring works from public and private collections. 
Zanele Muholi – Maison Européenne de la Photographie, Paris
1 February 2023 – 21 May 2023
This presentation of Zanele Muholi in Paris will be the first retrospective of her work in France. Muholi is an internationally renowned South African artist, famous for celebrating the Black LGBTQIA+ community. This is a must see!
Sonia Boyce: Feeling Her Way – Turner Contemporary, Margate, Kent
4 February 2023 – 8 May 2023
The Turner Contemporary is presenting Feeling Her Way, the exhibition that won Sonia Boyce her Golden Lion for Best International Participation at the 2022 Venice Biennale. This installation includes music, sculpture, video, collage and more.
Composing Color: Paintings by Alma Thomas – Smithsonian American Art Museum, Washington DC
15 September 2023 – 2 June 2024
A rainbow of colour! One of the most colourful and exuberant artist practices is highlighted in Composing Colour: Paintings by Alma Thomas at the Smithsonian American Art Museum this year. This exhibition, as the title suggests, explores Alma's masterful manipulation of colour throughout her career. 
Georgia O'Keeffe, To See Takes Time – MoMA, New York City
9 April 2023 – 12 August 2023
We can't wait for this solo exhibition! Internationally recognised for her large scale flower paintings, Georgia O'Keeffe's long career will be presented on the third floor of the Museum of Modern Art in New York City. 
Gio Swaby: Fresh Up – Art Institute of Chicago, Chicago
8 April 2023 – 3 July 2023
Fresh Up showcases the immense talent of artist Gio Swaby, including embroidered portraits that explore the intersections of Blackness and womanhood. 
An-My Le: Between Two Rivers/Giữa hai giòng sông/Entre deux Rivières – MoMA, New York City
5 November 2023 – 9 March 2024
An-My Lei's works have consistently engaged ideas of how humankind mythologize warfare, conflict and violence. This exhibition at MoMA will celebrate her never-before-seen embroidered works and rarely shown photographs. You cannot miss this. 
All in all, 2023 will be a year fulfilled with much anticipated exhibitions that will highlight the works and careers of women artists who throughout centuries have left an indelible mark in art history.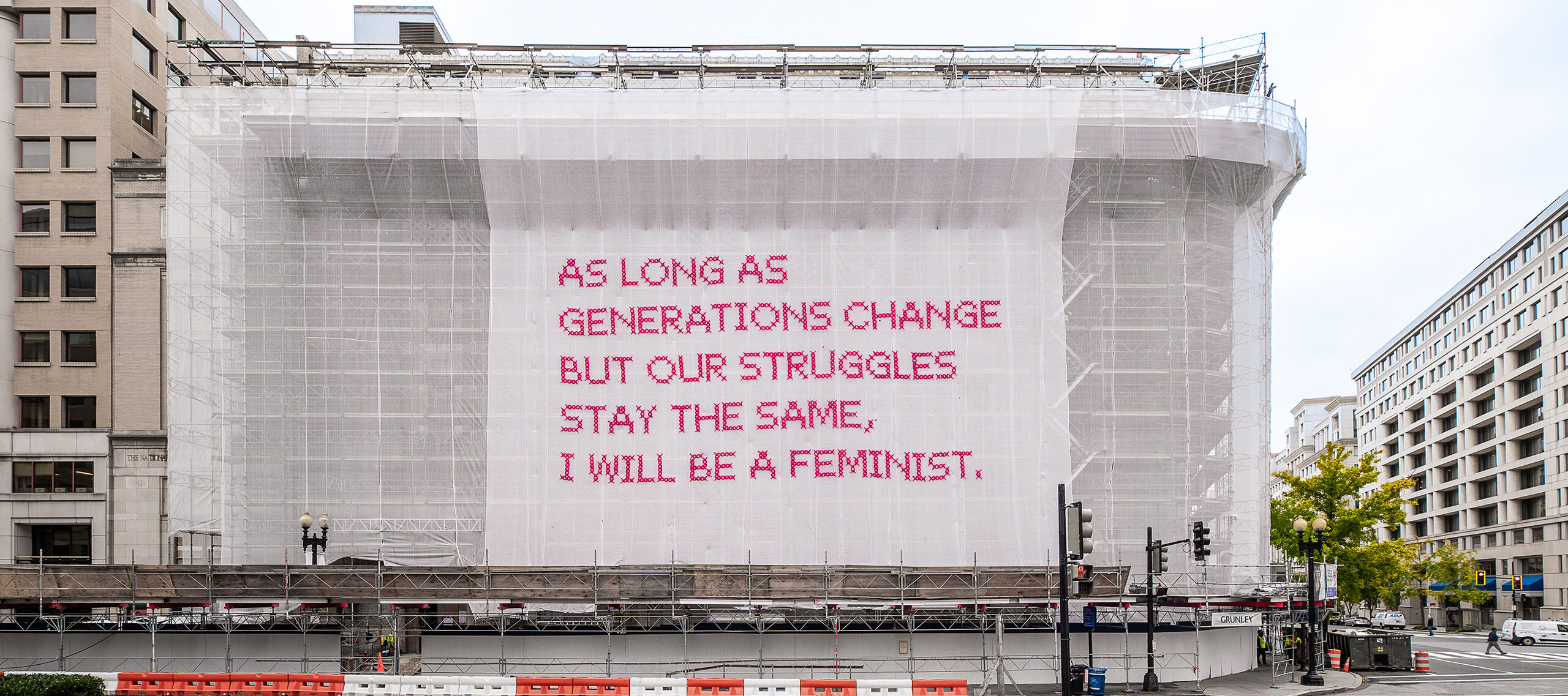 Katharina Cibulka, Solange #27. Installation View, National Museum of Women in the Arts, Washington DC. Mesh scaffolding. Courtesy of the artist. Photo by Kevin Allen.