September 27, 2022
The newest generation of collectors: a conversation with Edwin Safa
Article by newcube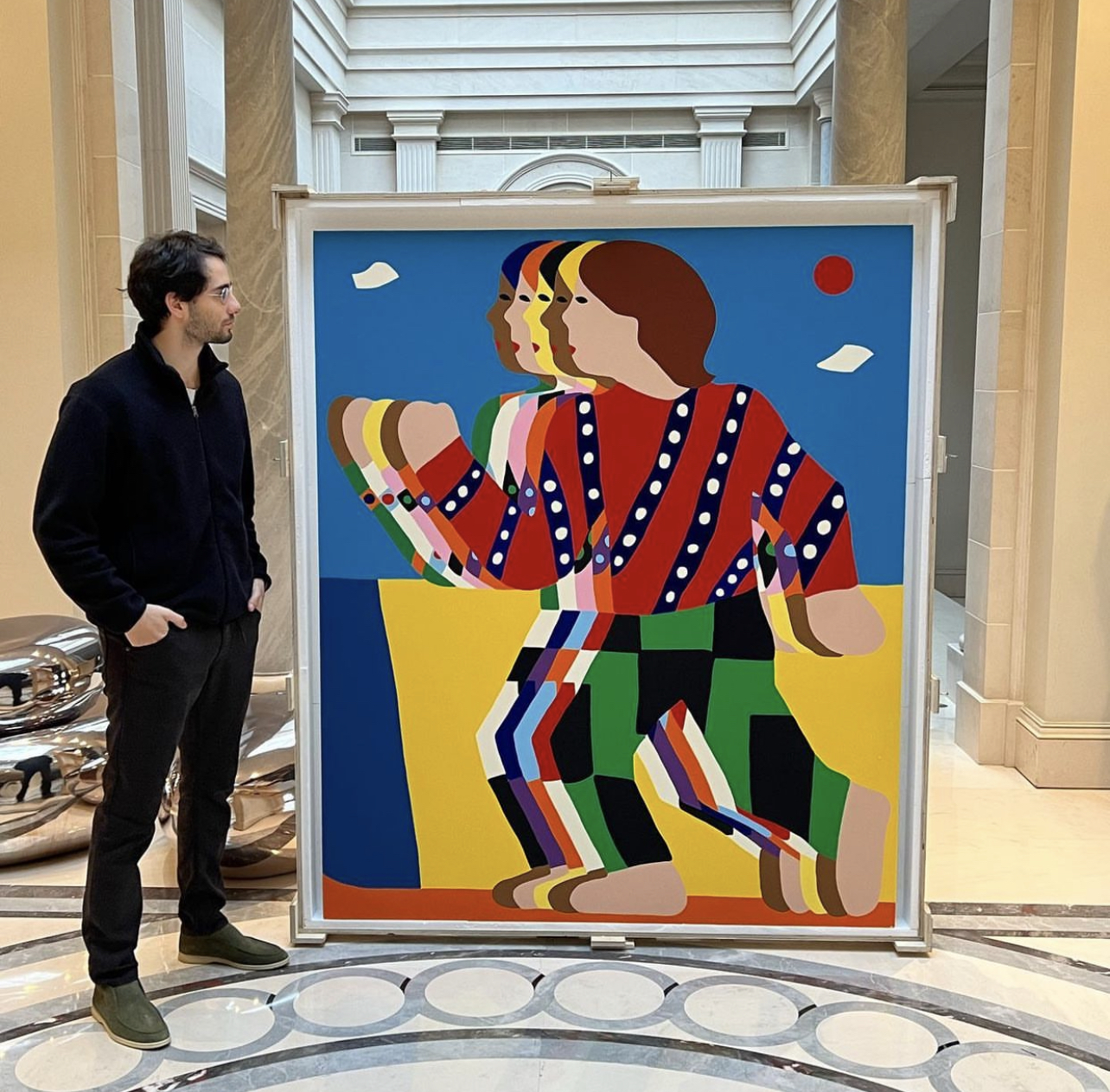 Collector Edwin Safa at his home, with artwork by James Ulmer, Stance, 2021.
Edwin, such a pleasure to speak to you today. You are part of a generation of collectors who is active on social media and our team has come to discover your collection on Instagram. We know a little bit about you, but for our readers and followers, could you tell us about yourself and your trajectory in the art world? 
Edwin: Thank you newcube! It's hard to define oneself if you have been raised and spent your time the way I did. I have Lebanese roots since both my parents are from there. I also hold a Brazilian passport since on my mother's side the family has spent years in Brazil, where my mother was born and raised. 
Growing up I spent plenty of time with my family in Europe. At home, we speak 4 languages interchangeably and I was lucky to be exposed to a variety of literature and art from different cultures from a very young age. Today, this multi-culturally rich background has allowed me to appreciate beauty and elegance from different perspectives. Each of these cultures have an appreciation of their own of art and aesthetics, and what an artwork represents to one is different than what it does to another. I feel lucky and grateful to my family for who I am today. All this has allowed me to enjoy a wider and more diverse spectrum of art and artists.
Your art collection has been fast growing, and is mainly (if not solely) focused on young artists. How and when did you start collecting art? 
I have always been drawn to art but have never considered owning an artwork until recently, in 2019. I was in London as a student, and found myself visiting art galleries often during my free time with a dear friend who pushed me to take a first step into the art world. I started doing my own research to discover new artists, and I read a lot in order to educate myself and learn more about the art world and its history. 
Many collectors work with an art advisor, which is not your case. How do you go about selecting the works and artists you support and acquire? 
With time, I've established great relationships with gallery owners and directors, as well as seasoned and influential collectors from around the world. We often have discussions about the state of the current market, we share new artist discoveries with each other, chat about ongoing trends, and we share ideas on how to best grow our respective art collections. 
Is there a special focus or theme throughout the works you collect? 
I was initially focused on portraits and figurative art in general, but slowly and more recently, my interest has grown further towards abstraction. 
Which artists are included in your collection? 
In no specific order, Jordy Kerwick, Angeles Agrela, Anastasia Bay, Amir Fallah, Tania Marmolejo, Jana Schroder, Jan-Ole Schiemann, Shaina McCoy, Stickymonger, Gwen O'neil, James Ulmer, Mark Whalen, Rose Barberat, Clinton King, Maria Pratts, Victor Ubah and my most recent acquisition was a beautiful work by Andrea Marie Breiling. 
Which artwork was the first you ever acquired? 
I caught the collecting bug when I bought a piece by CB Hoyo. 
What are your favorite galleries & programs out there? 
I don't have a favorite gallery, but I work closely with Yusto/Giner, Allouche Benias, Almine Rech, Nino Mier, Stems Gallery among others. 
And any artists on your wishlist? 
This list would be too long, but my top 5 would be George Rouy, Austyn Weiner, Daniel Gibson, Roby Dwi Antono and Marina Perez Simão.
Do you have an art world icon? 
Without a doubt the iconic JMB! 
At newcube, we work closely with young collectors and art enthusiasts, some of whom are buying their first artwork ever. Would you have an advice to a first time buyer of contemporary art? 
It's a common one, but an essential one: buy what you love and never buy based on a hype, you'll be disappointed very quickly.  
Do you typically open doors to your private collections or loan to exhibitions? And are you involved with any institutions? 
My art is for me and my family to enjoy. But of course, I do enjoy sharing my collection with friends and people who are passionate about art. I have not yet had the opportunity to loan artworks from my collection to exhibitions but I am certainly hoping to build further and stronger relationships with institutions in the future. 
We hope the same for you! On that note, do you have any long-term strategy or plan for showcasing your collection? 
Eventually, I would like to create a space where I can display my collection for all art enthusiasts to see. Within that space, I would love to incorporate an arena dedicated to young artists, to offer them access to workshops as well as an exhibition space, and really by creating this enriching environment, I would support them and their careers in the best way possible. 
Thank you so much for your time, Edwin. Your trajectory and mission as a collector is inspiring. We hope it will inspire the many collectors we closely work with, and the newest generation that is stepping into this world. We are excited for what's ahead for you! 
To connect with Edwin Safa on Instagram: @edwigos
Shaina McCoy, Cremella & Danielle, 2022.
Jan-Ole Schiemann, Oh So Sweet & Sour, 2021. Courtesy Nino Mier.
Jana Schroder, Untitled, 2021. Courtesy Almine Rech.
Angeles Agrela, Violetta, 2020. Courtesy Yusto/Giner.
Amir H. Fallah, Explorer, 2021. Courtesy Shulamit Nazarian.
Shaina McCoy, Cremella & Danielle, 2022.
Jan-Ole Schiemann, Oh So Sweet & Sour, 2021. Courtesy Nino Mier.
Discover more