March 09, 2023
Painting the Uncanny: An Interview with Brandon Elijah Johnson
Article by Mollie Barnes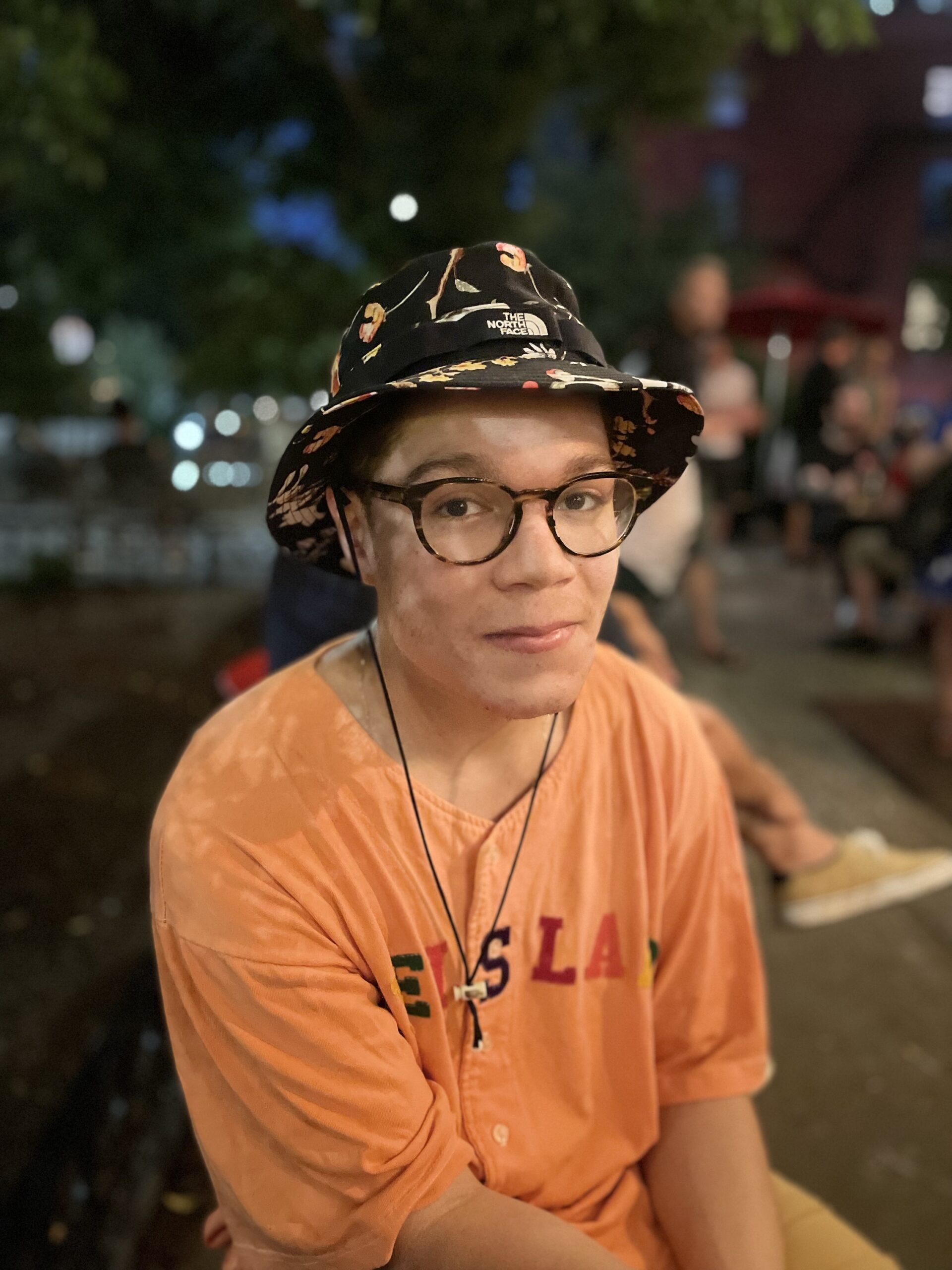 Brandon Elijah Johnson
Brandon Elijah Johnson is a rare talent.
His works are synonymous with the feeling of the 'uncanny'; of reinterpreting a familiar, ordinary scene, freezing moments in time. For Brandon, the term 'uncanny' derives from a Freudien context of something being "nothing new or alien, but something which is familiar, though has become alienated." For him, the tensions between the comfortable and familiar, and the inherently unsettling, brings an exciting perspective to his works, as well as a tongue-and-cheek tone to his aesthetic.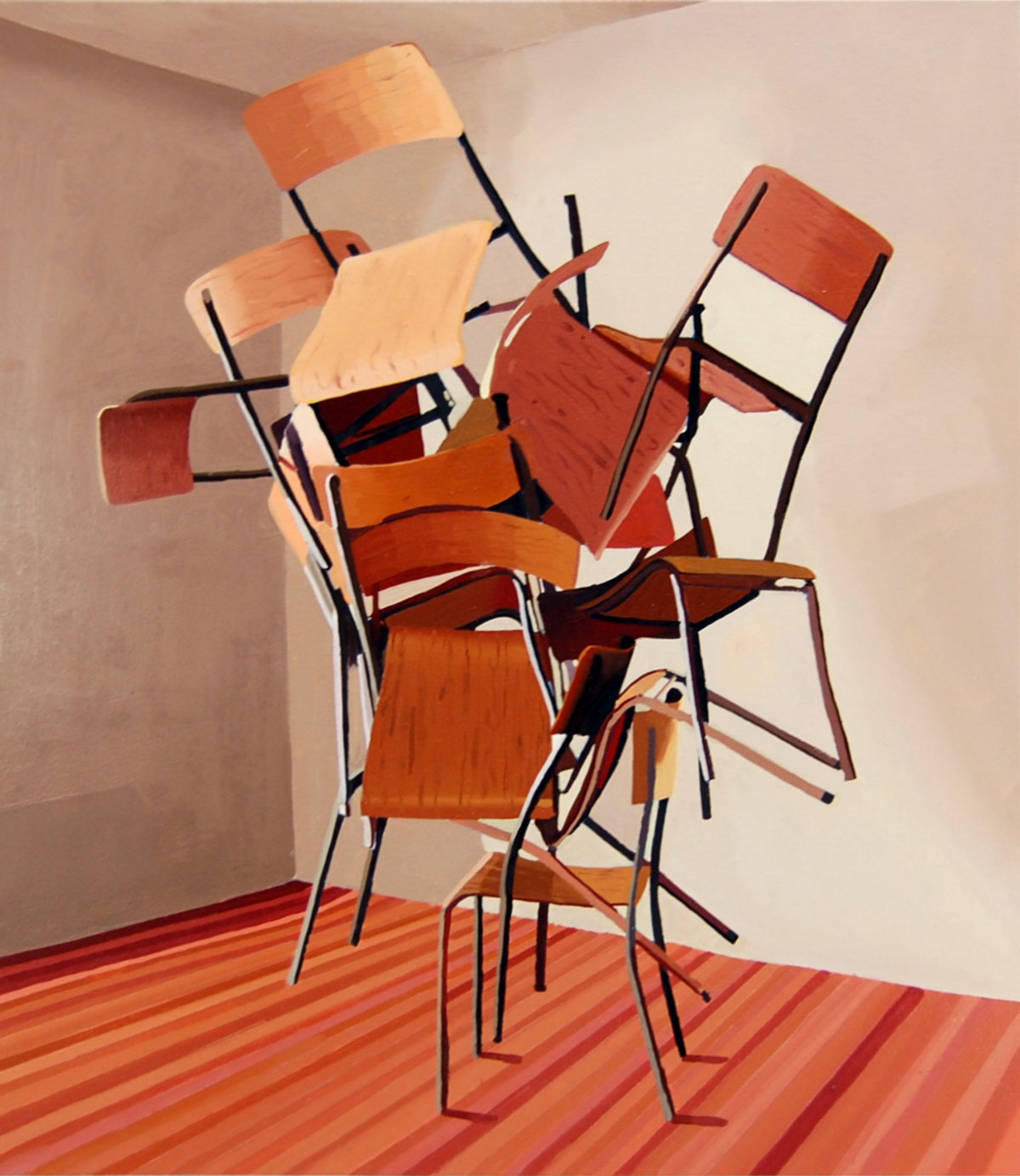 Brandon Elijah Johnson, Not How I Left It, 2020. Private Collection, USA.
A key example is through his work 'Not how I left it', depicting a painting of chairs stacked in a haphazard way. While meticulously rendered, and depicting a relatively ordinary scene, the work has a certain menacing energy. This work is inspired by that familiar feeling that things are not exactly how you remember them, or how you left them: the universal questioning of something more sinister, paranormal or strange. 
Brandon watches a lot of movies. They provide a wealth of imagery, as well as a huge amount of iconic elements he incorporates into his works. His imagery is derived from "all over the place"; images, magazines, album covers, stills from movies and TV and music videos. He is consistently on the lookout for new sources. He often snaps images on his mobile to work from. "More is more," for Brandon when it comes to the source of inspiration. Through Brandon's hand, the images are recontextualised, moving away stylistically from their source material – again, providing a sense of the uncanny to otherwise familiar images.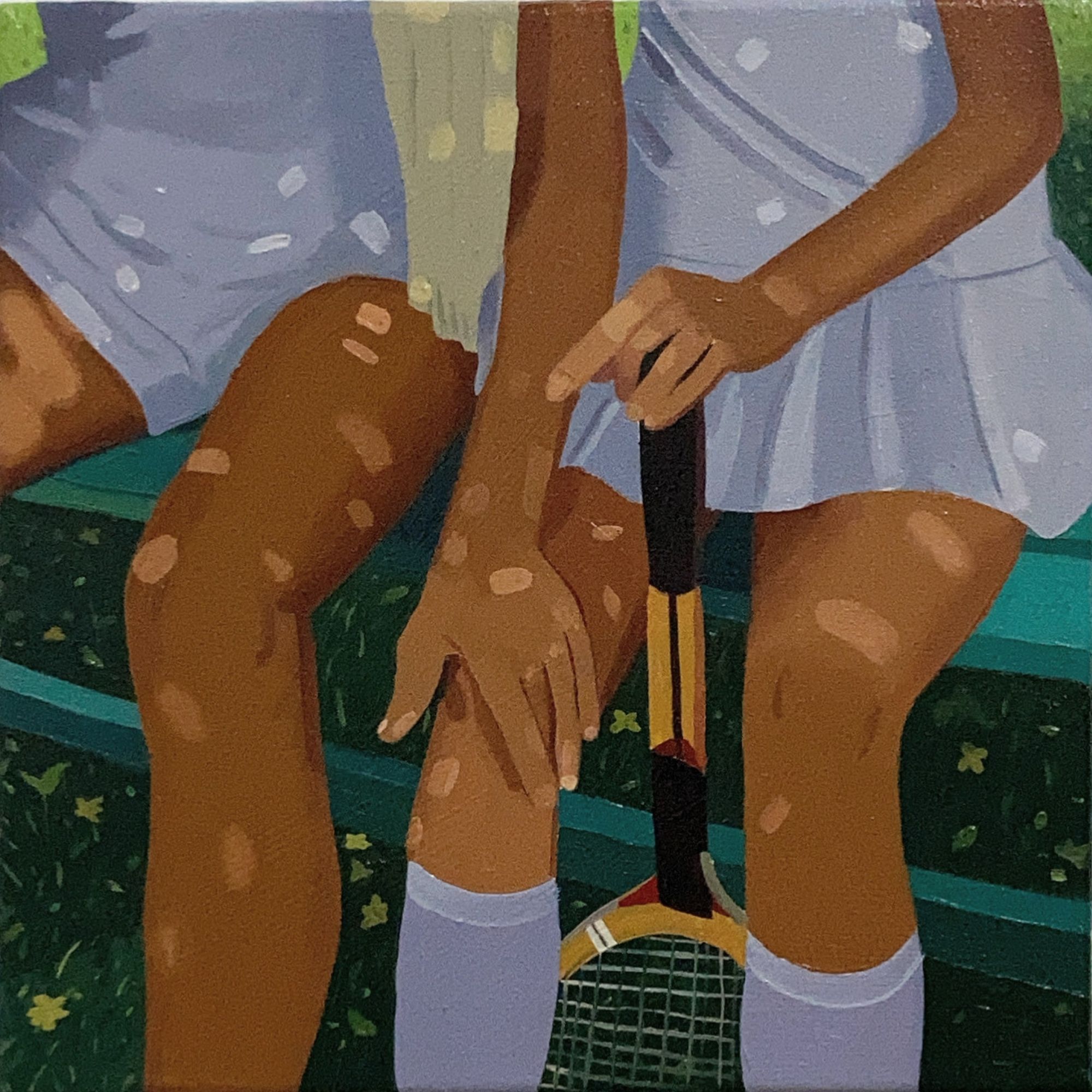 Brandon Elijah Johnson, Claire's Knees, 2022.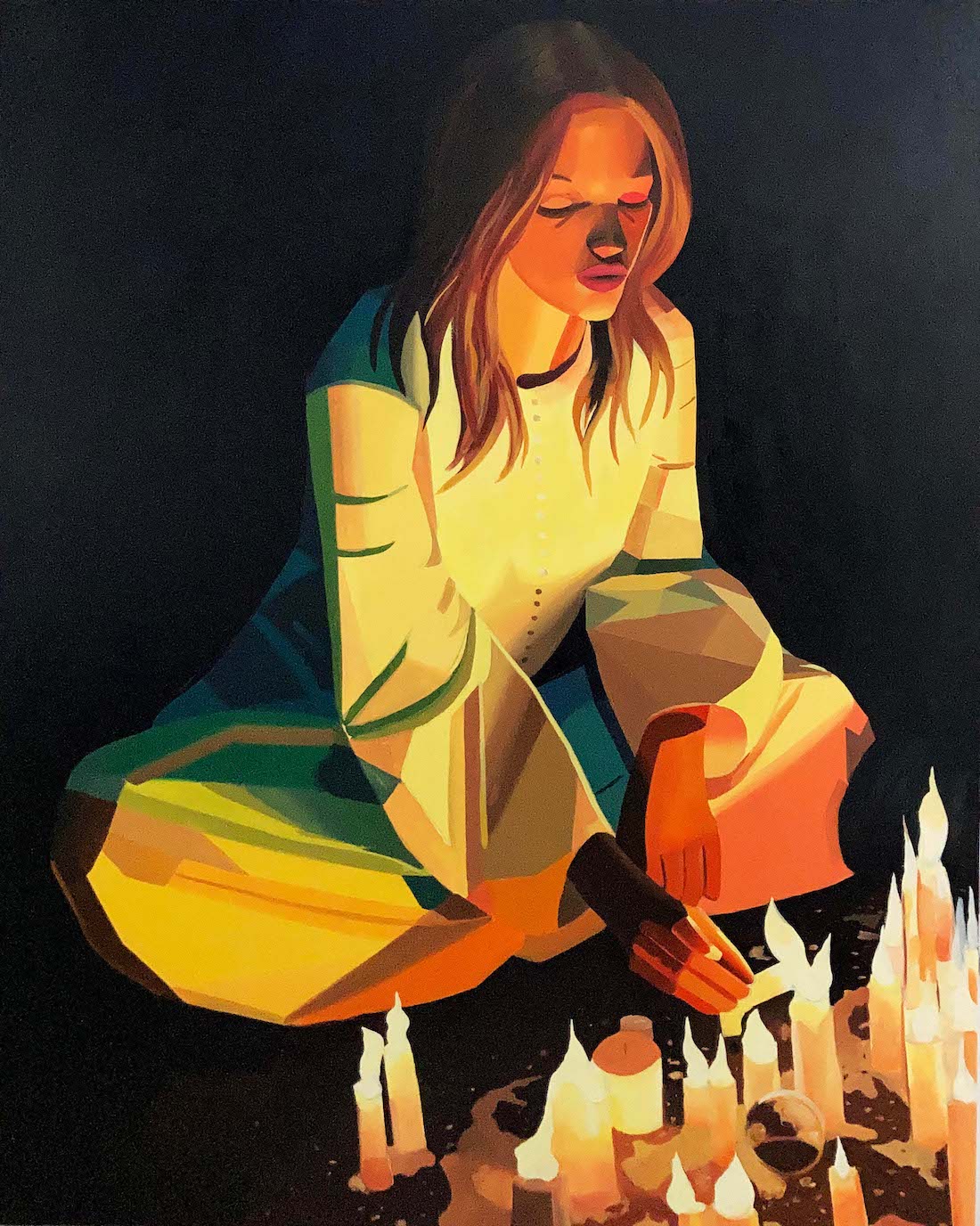 Brandon Elijah Johnson, Crystal Vision, 2021.
Brandon has a particular aptitude for rendering light – demonstrated across his body of work. This is particularly clear in works such as 'Claire's Knee' and 'Crystal Vision' each demonstrating this intense understanding of light to create mood and energy. The brightness and stillness of light across figures demands the viewers attention; to take a moment in time to reflect on the subject. 
Brandon has a regimented studio practice, everything has its place, and everything happens in distinct order. He mixes his paints, preparing the entire palette before picking up a brush. Works begin simply, with colour blocking, building up marks to the sounds of podcasts, then music. His "best work happens when [he] can turn [his] brain off and just go into painting mode." Living in Brooklyn has heavily influenced and inspired his practice. This is mainly through the cacophony of art and artists present throughout the city. At equal points, "the city can be both super bleak and super romantic and beautiful." This juxtaposition seeps into the way the artist looks at the every day. Moreover, the city's long and arduous history for rigorous artistic practices, as well the strong community of artists has pushed him further and further with his practice; including critiquing each other's works and learning organically from each other. Brandon describes how "New Yorkers get a bad rap for being very curt and to the point" but how this approach helped him to break new bounds in his study. Within his inspirations, he highlights his undergraduate teachers, particularly Elena Sisto, a "super touch and harcore painter's painter". Studying under Sisto taught him vitals about colour and unique painting styles that truly expanded his practice. Other painters who inspire his aesthetic include Fairfield Porter, Duncan Hannah, Richard Bossman, Lois Dodd (who he describes as one of the "greatest painters of all time"), and other "distinctly East Coast Aesthetic Figurative Legends". The influence of David Hockney and Alex Katz is also clear among many of his works. 
During their creation, titles come very naturally to him. As an example, he tells me of his time during his undergraduate degree. "My mom was sick and in the hospital. I was very distressed and sort of paralyzed. It felt like no one that I would talk to could relate." He recalls how people would ask "Who died?!" as a synonym for "Why the long face?" or something similar. "I was walking past a graveyard one day and I passed a tombstone that was completely illegible and beautifully backlit. I snapped a picture on my mobile phone and that painting basically just made itself, the title "Who died?" in reference to the illegibility of the tombstone in the painting, but also the etymology of the expression itself."
Brandon never divulges much about each piece he creates. His relationship with each finished work is intensely personal and often specific. He quips how he intends to '"leave a little room for the magic to live" for viewers, choosing not to provide context to many of his works. 
It's a busy and exciting time for Brandon, make sure to catch his current exhibitions: California Dreaming, curated by Joe Chira and closing soon at Lorin Gallery in Los Angeles (until March 18th), and Time at Pablo's Birthday in NYC, curated by Ryan Steadman (until March 31st).