March 01, 2023
6 artists we have our eyes on this month
Article by Mollie Barnes
Looking for new artists to inspire your creativity? Looking to collect new and exciting artworks? newcube in collaboration with guest curator extraordinaire Mollie Barnes have compiled a truly incredible list of artists for you to discover – or re-discover! Through this series produced by newcube and our guest curators, we concile our art expertise and first hand access to exhibitions and reviews to shed light on artists who have our attention. We have looked at recent exhibitions and reviews, public acquisitions, art fairs and curatorial research.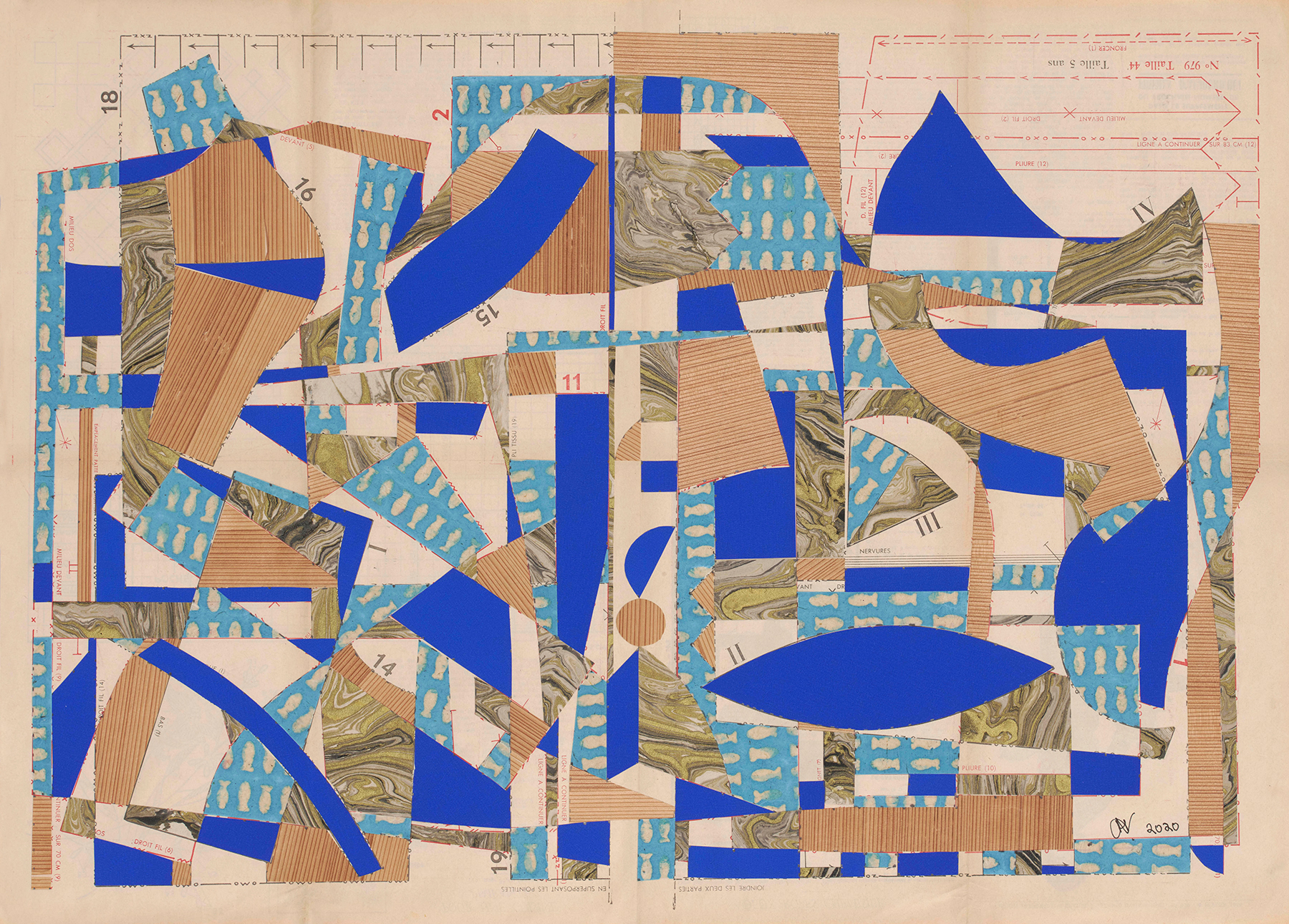 Hormazd Narielwalla, Blue Love Story, 2021. Courtesy of the Artist.
Hormazd Narielwalla (b. 1979) is predominantly known for assemblages and collages, drawn from vintage and antique tailoring patterns. He is a truly pioneering artist who explores themes of identity and transformation. In the past, he has collaborated with the Serpentine Gallery, the Victoria & Albert Museum, but also the Hyatt Regency London, and his works are held in the V&A's permanent collection. 
Narielwalla has caught our eyes recently for his recent project Fear of the Flower. This project has been realised as a book of 36 paintings, reminiscent of Georgia O'Keeffe's floral paintings, on a French tailoring book.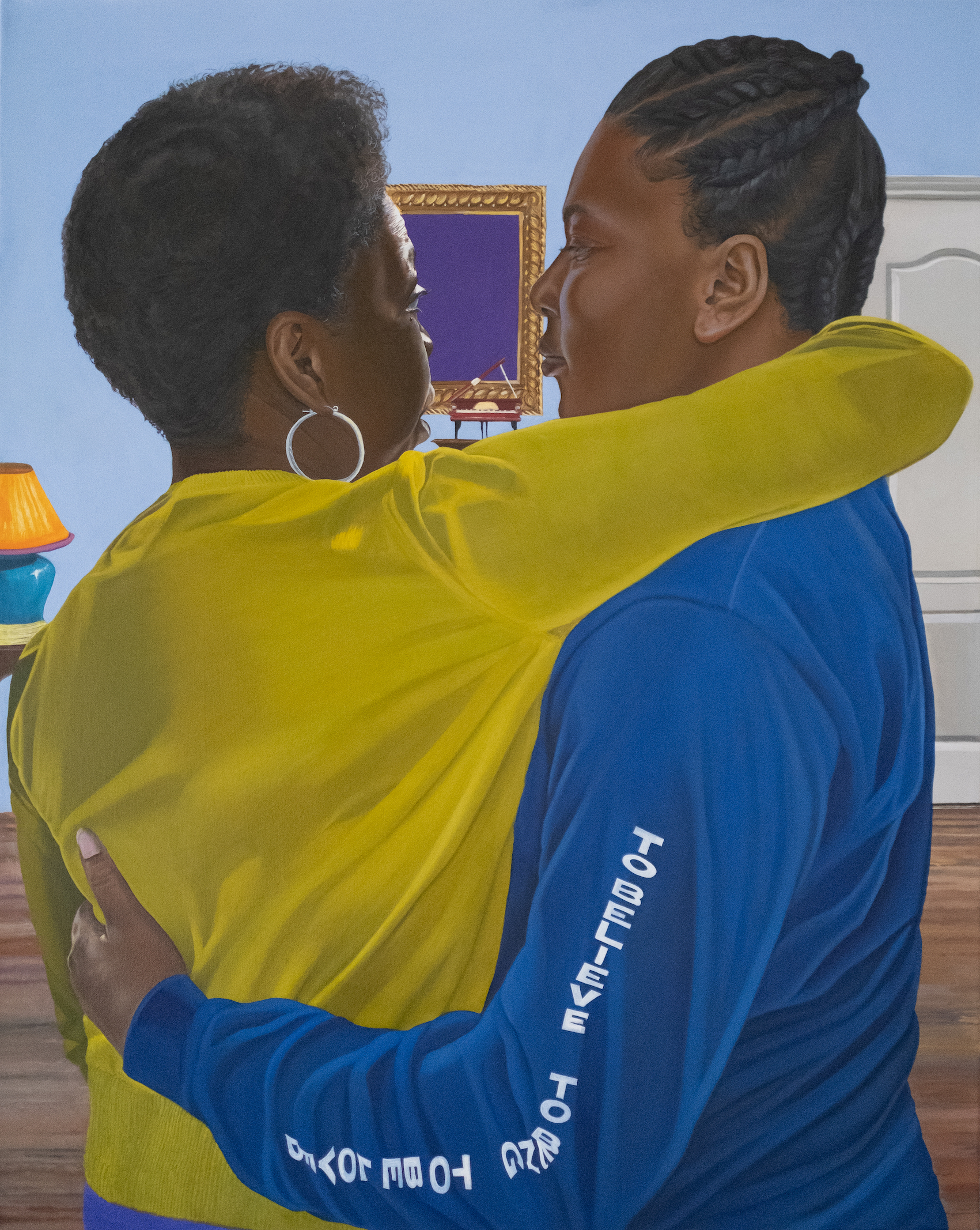 Shantel Miller, To Believe, To Be Loved, To Belong, 2022
Shantel Miller (b. 1991) lives and works in Boston, USA and Toronto, Canada. Miller is a storyteller – her works examine representations of belief systems, gender, identity and race. Her intimate oil works delicately depict everyday surroundings, ordinary environments showcasing 'moments of black life'.  Miller's compositions are sensitive and personal. 
Her recent works, including Sheryl and Sherri, To Believe, To Belong, To Be Loved and The Day I Met Immanuel,  are intimate and personal depictions of caring and loving family relationships. These works truly inspire feelings of nostalgia, love and comfort.
Miller's works have recently been exhibited within A Suitable Accomplishment group exhibition at Trotter&Sholer.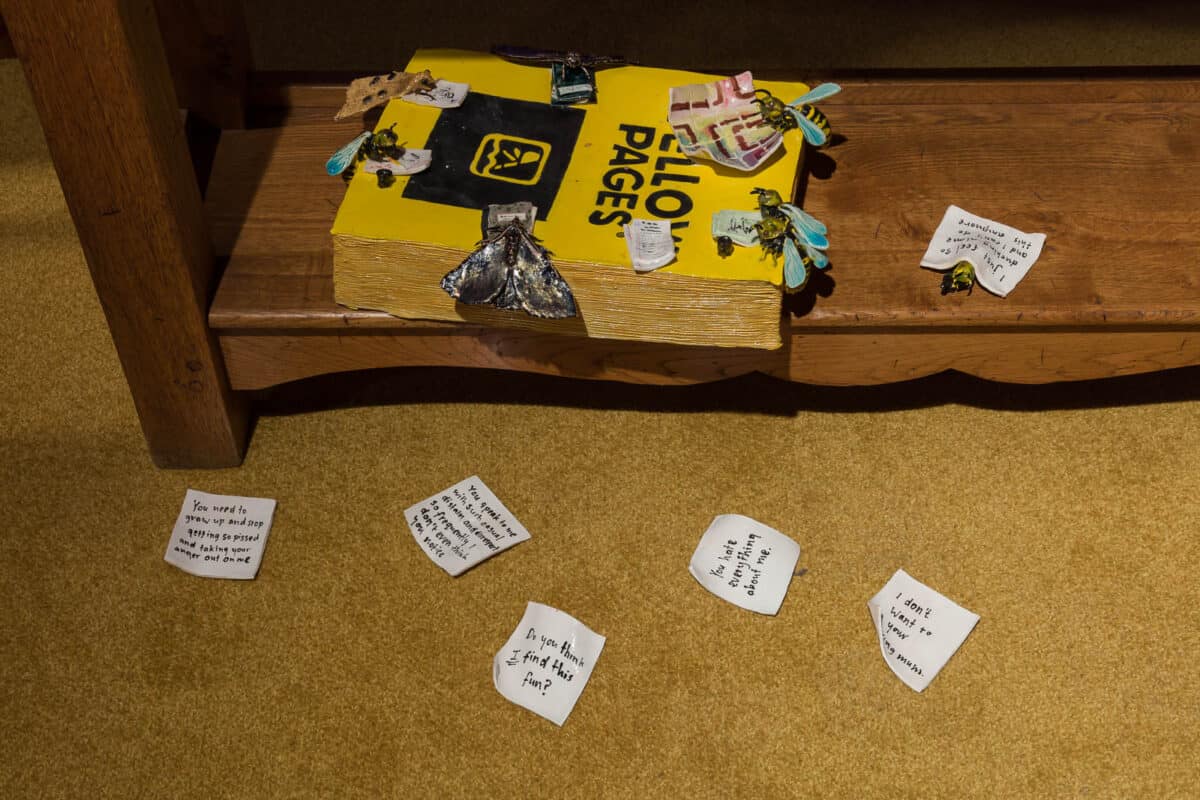 Lindsey Mendick, Strange Clay, 2022. Courtesy of the Artist & The Hayward Gallery.
Lindsey Mendick (b. 1987) lives and works in Margate, UK. Her works immediately end equally bring to mind the humorous, the grotesque and the real. They are striking and exuberant, courageous and personal. Working predominantly in clay, Mendick has tackled challenging subjects such as mental health and Polycystic Ovary Syndrome in a loving, honest and raw way. 
Recent works that have caught our eyes include her series of ceramic Post It notes, emblazoned with satirical and important notes to oneself. These include I love you but I love me more, Seriously?? and I don't deserve nice things. 
We were particularly inspired and touched by her summer 2022 exhibition Lindsey Mendick: Off With Her Head at Carl Freedman Gallery in Margate.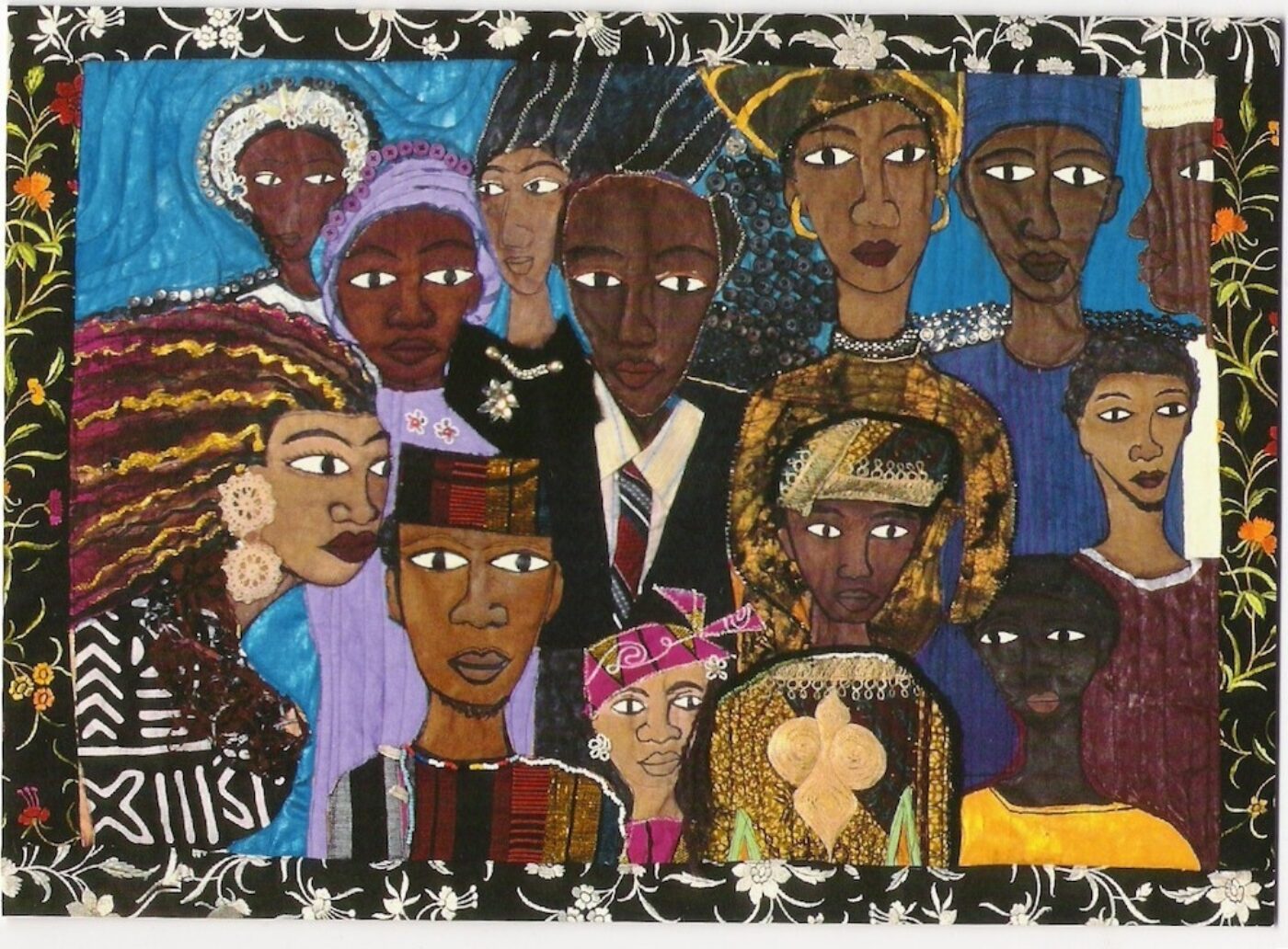 Dindga McCannon, Wedding Party #1, 1999. Courtesy of the Artist.
Dindga McCannon (b. 1947) is an artist we have followed for a while. A pioneer of twentieth and twenty-first century fibre art, over the last five decades, McCannon's works have showcased and celebrated the histories of Black women through sculpture, quilts, prints and paintings. Her works are as fierce as they are compassionate, examining the inequality faced by Black women in America every day. 
As she herself describes, "my work is the fusion of traditional needlework (skills given to me by my mother and  grandmother), with the fine arts: drawing, painting, printing, and  printmaking, along with a lot of mixed media."
With a long overdue exposure within the art world, the artist now in her mid-70s, had her first breakthrough solo show open at Fridman Gallery in New York, in 2021. This was the first time she had been represented by a commercial gallery, and her works were exhibited at the Armory Show and at Art Basel Miami Beach that same year.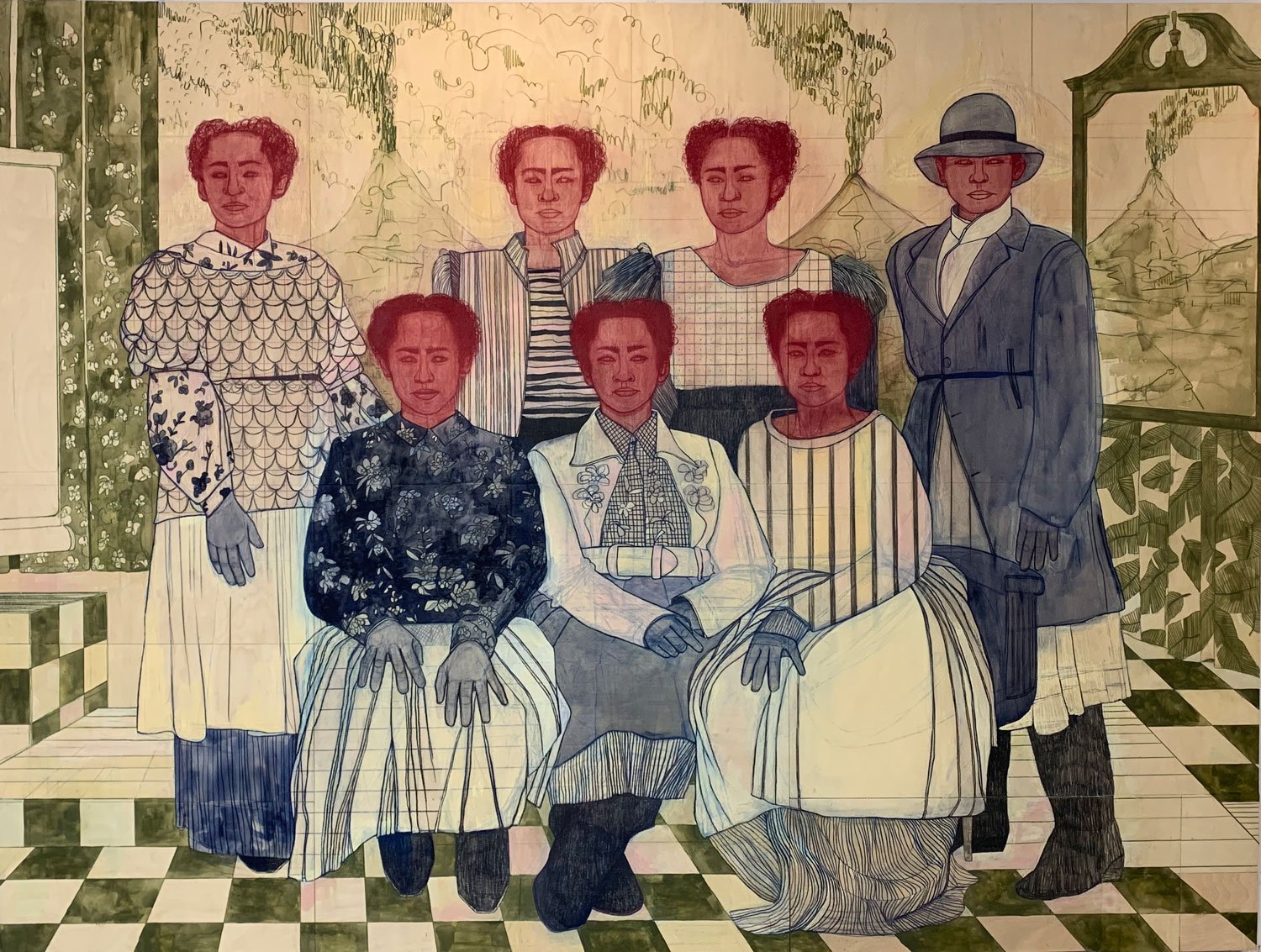 Pamela Phatsimo, The Seven, 2020. Courtesy of the Artist & Goodman Gallery.
Pamela Phatsimo Sunstrum (b.1980) is a rare talent. Her works beautifully reflect on diverse genealogies of her experience living across the world – Africa, North America and Southeast Asia. Through her works she centres Black female identities, highlighting the contributions of often overlooked historical figures. The figures are  Phatsimo's alter-egos, though their landscapes are less defined, existing in both the present and imagined space of her mind. 
This year, Pamela will show a brand new commissioned solo project in London at the Bloomberg Space, she will be part of the Liverpool Biennale, and will have a much anticipated solo exhibition at Goodman Gallery in Johannesburg. She is also included in the 15th Sharjah Art Biennale.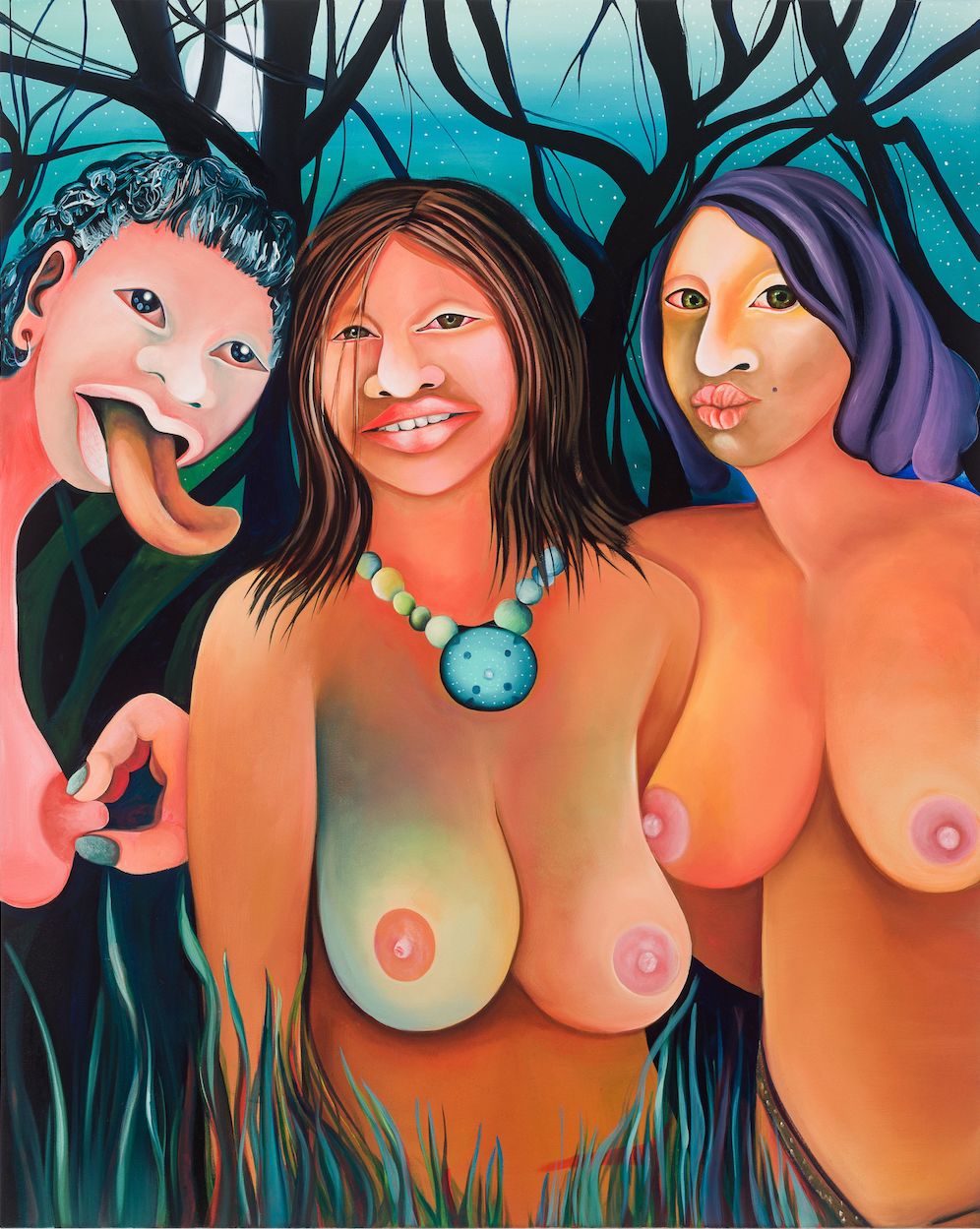 Reihaneh Hosseini, Three Women, 2022.
Reihaneh Hosseini (b. 1988) was born in Tehran and is now based in Vienna, Austria. Her practice explores and examines her identity as a woman growing up in a conservative environment both in her private and public life. Themes she explores in her paintings include rejecting traditional conventions, exploring laughter, nudity, the body – often her own one – and nature. Her works are gloriously brimming with wit and sarcasm, complete with bulbous features, distorted profiles and exaggerated style, though they are rooted in a profound emotional sense of discovery, philosophical themes and reflect on her deep understanding of the self.
We've particularly enjoyed viewing Reihaneh's studio through her instagram page recently and discovering her new works exhibited in galleries worldwide, from London to Shanghai and Paris. We look forward to her next exhibition which will be held in Los Angeles in the spring 2023.