November 01, 2021
Pedro Ruxa captures a new light
Article by Emie Diamond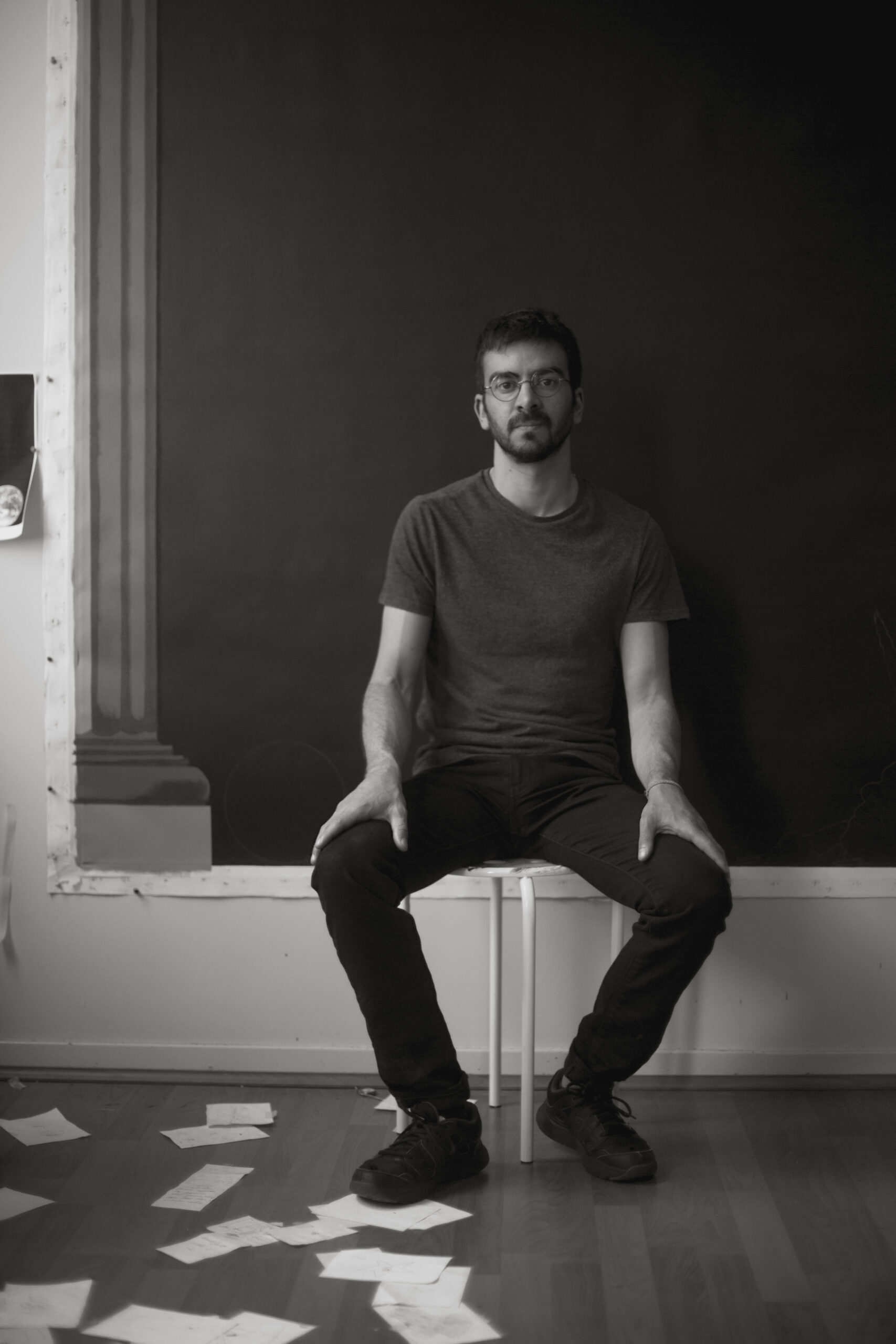 © Pedro Ruxa, 59 pm, Fanchon Ismail
Pedro Ruxa, a young Portuguese artist based in Brussels, is a master of light in the making. Ruxa's signature style instils intellectual objects with agency, enveloping his forms in a warm glow radiating from the inside out. Drawing parallels to the perceptive early sketches of Georges Seurat, Ruxa's figures appear to oscillate on their two-dimensional surface, as if challenging space and time. Employing acrylic or pencil, Ruxa adroitly transitions between light and shadow. His apparitions reveal a distinct aura as if taunting one to peer into an enigmatic chasm. Provoking the viewer's eye to dance across the canvas, Ruxa's work subsequently offers a nod to the nuance of perception.
In his self-portrait Cadmium Love (2020), the figure is shrouded by darkness, seemingly vulnerable to the alluring, heavily lit tube on the left side of the canvas. Ruxa regards this work as a declaration of love to painting, a notion further apparent through his fearless commitment to capturing the essence of light. Basking in a scarlet brilliance, the figure is composed and focused as if responding to a divine decree. Conceived according to human scale, Ruxa's accurate portrayal of the human body constructs a voyeuristic intimacy for the viewer. The artist's meticulous application of paint suffuses his work with a heightened sense of mystery, straddling fiction and reality.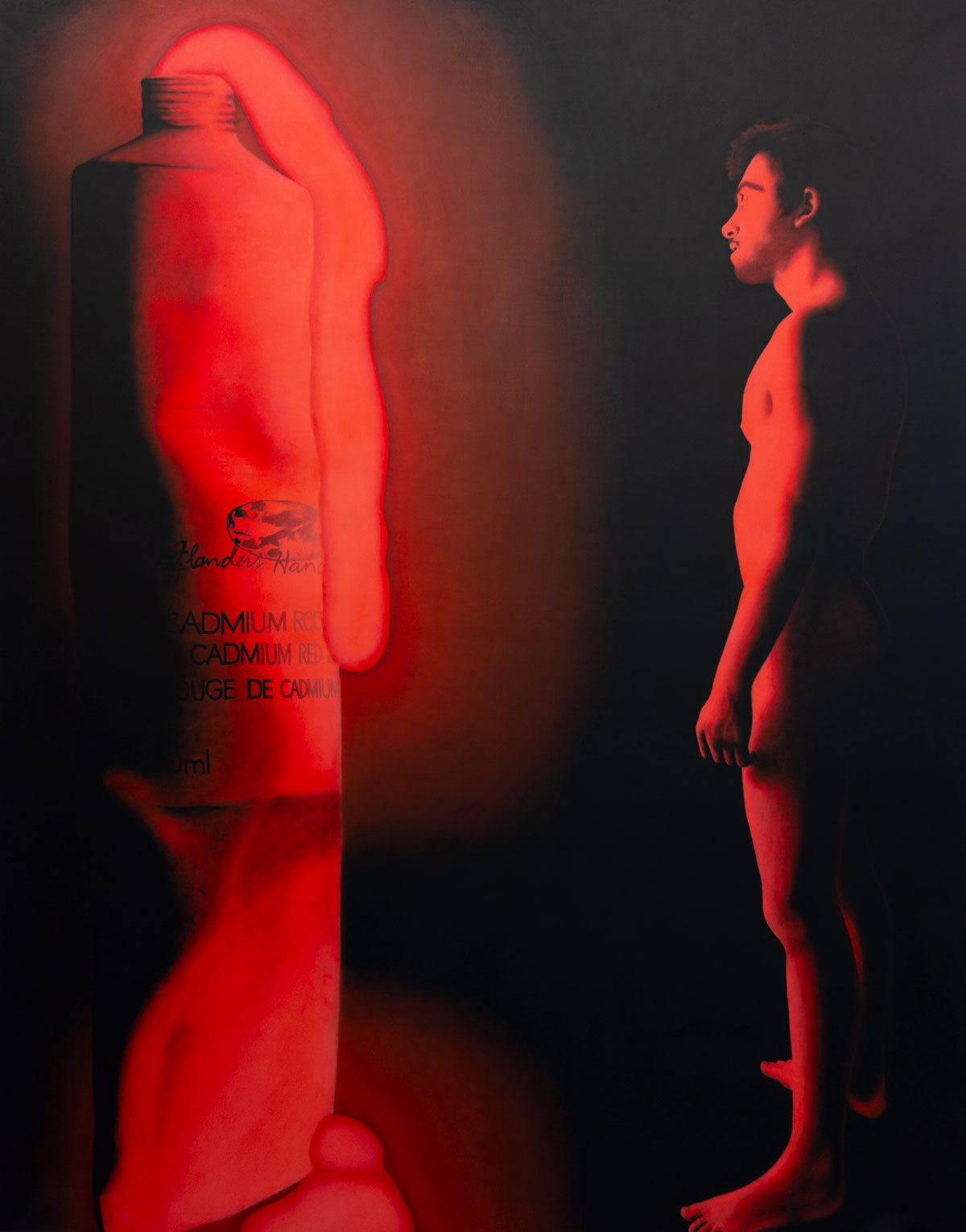 Pedro Ruxa, Cadmium Love, 2020
Ruxa's devotion to achieving the idyllic light is evident through his adherence to examining techniques of masters who came before him, specifically Vermeer and Titian. Deeply transfixed by the science of colour and its transformative properties, Ruxa incorporates a variety of theory into his work. In fact, he spends 'most [of his] time searching' for colour, a sentiment which is visible upon a closer view of his work. The artist's visceral, empathetic grasp of colour theory is intuitively articulated through Emotional Color Wheel (2019), his painting attributing hues to sentiments of the heart. Ruxa's thoughtful approach also extends to his text works; in particular, A world in motion is perceived by a moving viewer as if they were both not moving (2019). His letters pulsate, as if suspended in mid-air, utilizing chartreuse, lilac, and an icy blue to create a luminous effect.
In Ruxa's most recent exhibition, Tranquility base, held at 59 pm in Brussels this autumn, his symbolic structural elements appear 'closer to the earth.' Rather than lit from within, this series draws upon an external, increasingly 'natural' source. His painting Tranquility base #6 (In art new forms appear to replace old forms who have lost their artistic value) (2021) is notable, for his signature spectacles take centre stage. Incorporating this recurring element from Ruxa's oeuvre exemplifies the vast complexities of a world seen differently through the lens of every individual. Light is at the heart of perception and the root of life; searching to capture it with integrity is worthy of a noble cause. Ruxa's inspired curiosity for liberating objects from their restrained surfaces requires forging into the unknown, a calling which Ruxa uninhibitedly embraces.
Tranquility base #6 (In art new forms appear to replace old forms who have lost their artistic value) by Pedro Ruxa
A World in Motion is perceived by a moving viewer as if they both not moving by Pedro Ruxa
A World in Motion is perceived by a moving viewer as if they both not moving (detail) by Pedro Ruxa
Emotional Color Wheel by Pedro Ruxa
Emotional Color Wheel by Pedro Ruxa (detail)
Tranquility base #6 (In art new forms appear to replace old forms who have lost their artistic value) by Pedro Ruxa
A World in Motion is perceived by a moving viewer as if they both not moving by Pedro Ruxa
Discover more