January 11, 2023
Monique Leong, champion of emerging artists
Article by newcube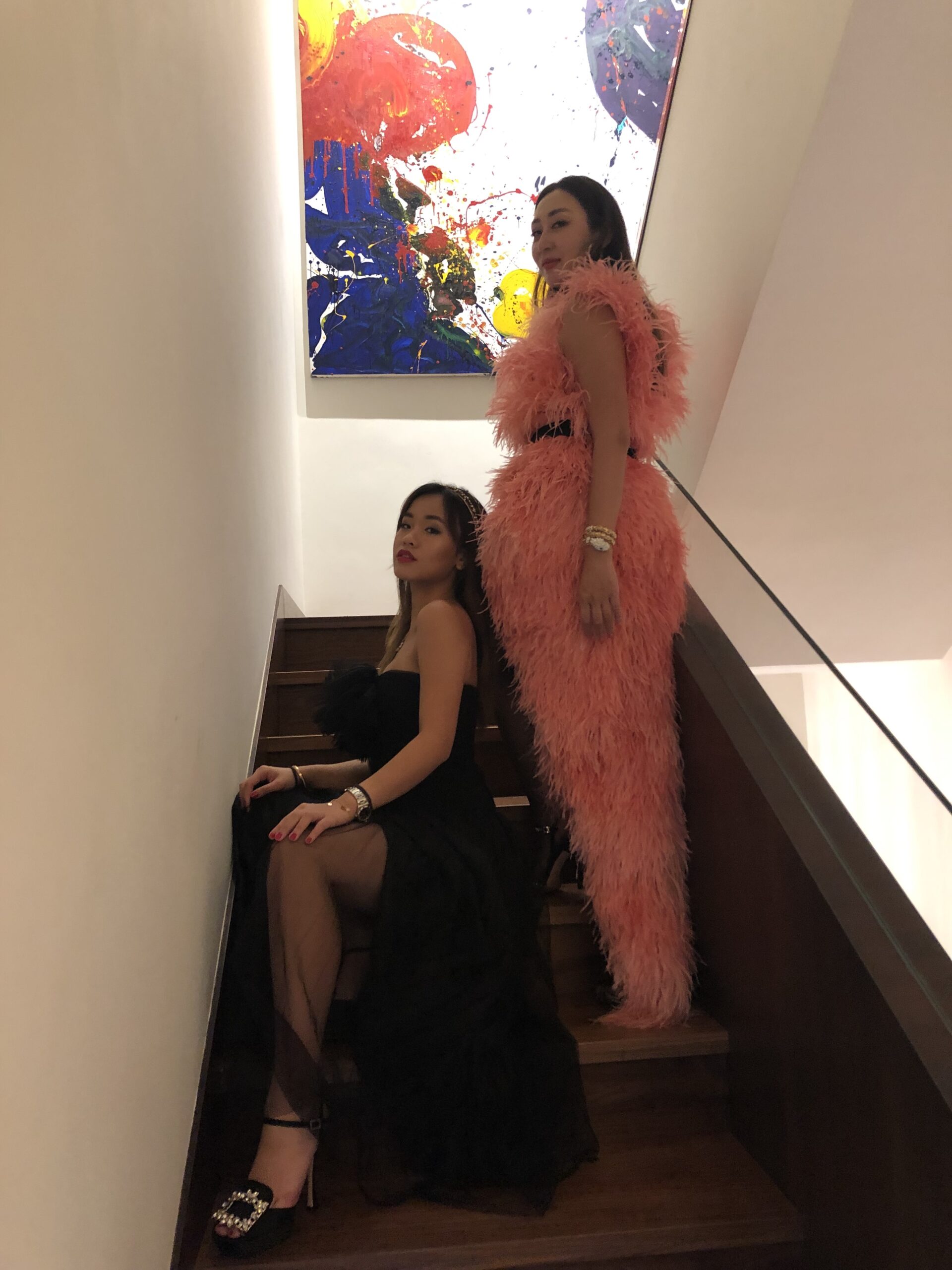 Monique and Claudia Leong at home with a Sam Francis painting
Hi Monique, a pleasure chatting with you. Our team at newcube has had the chance to do some art traveling with you in recent months and witness first hand your passion for art and emerging artists in particular. We'd love to chat about your very first steps into the art world, how did you enter this exciting world? 
Hi newcube, thanks for having me! It's been a pleasure getting to know your team more! So a little about me, I'm a Macau native and I grew up between the United Kingdom and Hong Kong. I recently graduated from University of Pennsylvania and have moved back to London to pursue a professional career in art! About 5 years ago, my mother, Claudia Leong, started collecting and I organically became her at-home advisor, using my art history knowledge to guide her decisions.
The art world is filled with smart, fun and passionate art lovers, whom we can work and enjoy art with – which I'm sure is the main reason why we're all sucked in! My mother stayed in Macau looking at never ending PDFs throughout COVID; meanwhile, I took on the responsibility to be her eyes and ears in the art world with the goal to continue collecting together, and with more confidence. My hope was to expand the range of our family's art collection by tapping into younger artists and their market. I am passionate about the discovery of new talents, and particularly from my own generation. It's been nearly 2 years since I have started collecting myself and the prospect of growing with these artists makes this hobby of mine irresistible!
That is so interesting and touching. Love this mother and daughter bond! 
My mother and I have always been the decision makers for our collection. She focuses on blue-chip and fast-emerging artists, whereas I mainly focus on younger artists on the rise. However, we try to get the whole family involved as much as possible. Whenever we discover artists or come across available works we are drawn to, we typically send all options to our family group chat. When I personally feel strongly about an artist or a work, I'd even find myself creating mini-proposals to convince my family. It's exciting when we can all agree, but the conversation sometimes gets a little heated when we start vetoing each other! It's definitely a fun process! 
Growing up in Macau, I had very rare opportunities to spend time with art – let alone meeting artists! When I moved to the UK at the age of 10, I realised the accessibility to art was incredible due to its proximity to mainland Europe. I've always loved looking at art and I used to paint too. I decided to take a more academic approach by studying Art History so I could properly admire the arts I encountered. My love for contemporary art was only developed in a later stage and I'm forever thankful to have an art history and academic foundation that guides me along the way.
Antony Gormley, Another Time VIII, 2007. Leong Private Collection.
Antony Gormley, Another Time VIII, 2007. Leong Private Collection.
It's all about training the eye, isn't it? We couldn't agree more with the importance of the art history knowledge. As a young collector, you have fully immersed yourself in the contemporary art microcosm. You travel to fairs internationally, you do many studio visits and you're constantly bringing together a community of like-minded collectors and art aficionados. Tell us a little more about how you engage with art on a daily basis. 
Yes to training the eye! I try to see as much art in person as I can – galleries, public museums, fairs, artist studios or private collections. I have my art instagram profile (@moniquesartworld) and social media definitely helps me to stay up to date with shows opening around the world, but also with new works artists are marking, or what other collectors are looking at, etc. And I love sharing what I enjoy in the art world with my followers and friends. 
What's your take on the art fairs? Is there one you like more than the others? 
I aim to attend as many fairs as I can throughout the year, namely Art Basel and Frieze, but the ones I find more exciting are always the smaller-sized fairs. Some of my favorites include NADA, Paris Internationale, Future Fair and Liste.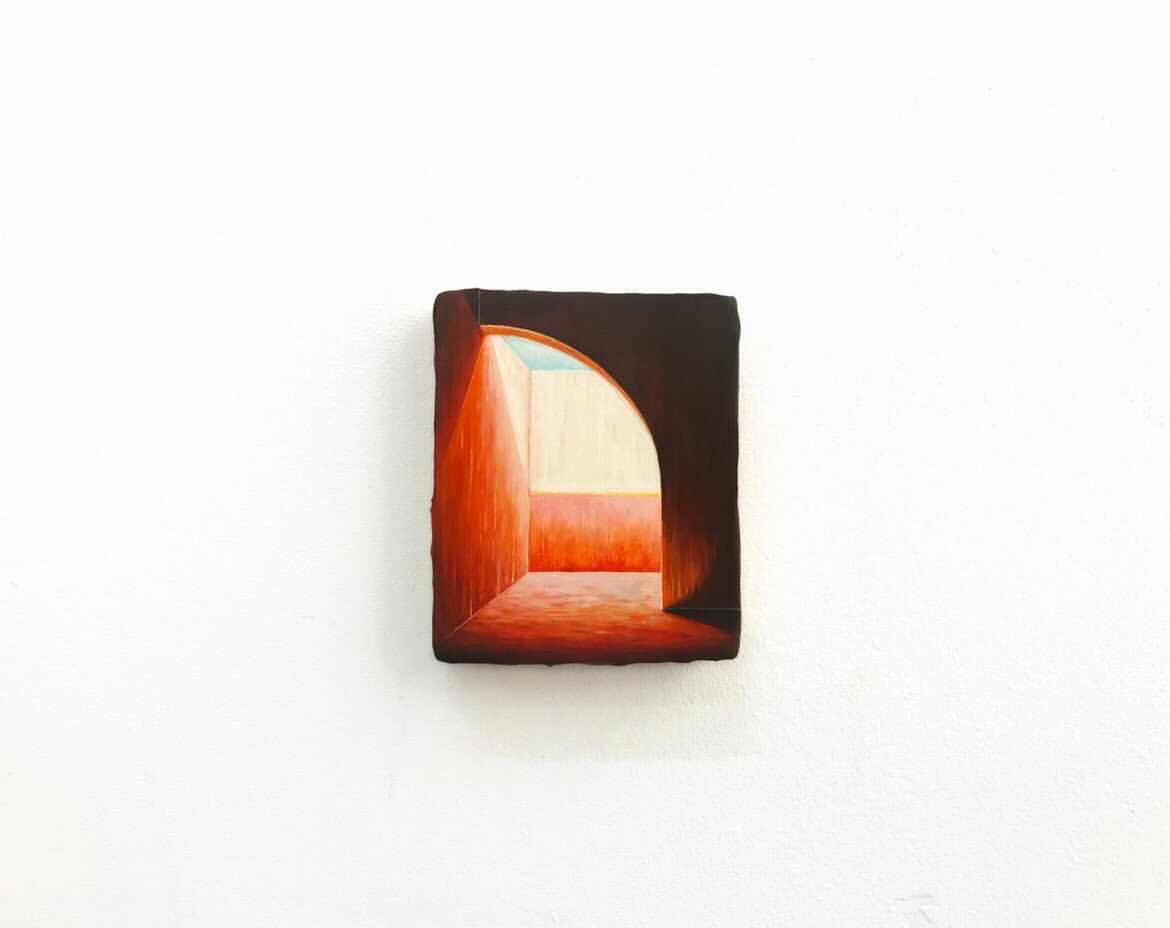 Szelit Cheung, Fragment VIII, 2021. Leong Private Collection.
Couldn't agree more! There is a degree of freshness and novelty in the smaller fairs that we don't see as much anymore in the big ones. You're also involved in several boards and councils. Could you tell us a little more about that and what that implies? 
I began supporting UCCA China, X Museum Beijing and Palais de Tokyo Paris in the pandemic as a member of their International Circle, Board of Trustees and International Board, respectively. Unfortunately, I have not been able to be as involved in UCCA or X museum lately as I have been away from China. The Palais de Tokyo has allowed me to have constant exchanges with the institution, as well as others on the board. As the youngest member, I am constantly inspired by other members, who are all influential collectors from different regions of the world – many with their own private museums or art foundations that I have been fortunate enough to visit! I am very excited for the future as The Palais de Tokyo aims to implicate board members in upcoming projects, working with artists from conception through creation in a collaborative process.
How wonderful! What's the most recent exhibition that you've seen that has left a mark on you? 
Despite the high volume of art I encountered during the October art fair madness in Europe, I am still to this day talking about the "Claude Monet – Joan Mitchell" exhibition at the Fondation Louis Vuitton. They are both masters in their own way, yet I had never made a connection between them. The curatorial approach to the exhibition was so intricately eye-opening: this clear dialogue between the artists was brought to light and the audience was invited to fully immerse themselves in this conversation. Another exhibition that left me in awe from the summer was "Wonder Women" at Jeffrey Deitch (New York) curated by Kathy Huang. It included an incredible lineup of 30 women and non-binary artists, with a focus on Asian American and figurative artists from the diaspora, most of whom explored themes related to self and identity. As an Asian woman who has witnessed an increasing number of anti-Asian hate crimes over the last few years, the stories told by each artwork and each artist in this group exhibition were extremely powerful and inspiring.
We also loved these two exhibitions and agree that they will probably hold their stance in the course of art history. We'd love to dive into your collection and the artists you have supported along the way. Who are some of the artists/artworks in your collection? And most importantly, what do you look for in new artists/ artworks you add to your collection?
So far, my art collection has been heavily focused on figurative paintings and I have been told it's a typical entry point for collectors! I have a soft spot for works that border hyperrealism and surrealism. I find artists who somehow incorporate art historical references particularly eye-catching. Mainly because I owe all my art knowledge to my art history education and it makes me appreciate artists who include an academic approach into their creativity. I appreciate artists who can paint – precisely – and for that same reason, I was drawn to smaller scale and detailed works. The first (and probably still my favorite) work in my collection is a 6.1 x 5.1 cm oil on wood by Hong Kong artist, Szelit Cheung. His use of light and shadow reminds me of Caravaggio's chiaroscuro and the incorporation of arches allows me to carry around a Renaissance annunciation painting just in the palm of my hand! Other artists in my collection include Megan Ellen Macdonald, Riikka Sormunen, Emma Hapner, Joel Dean to name a few.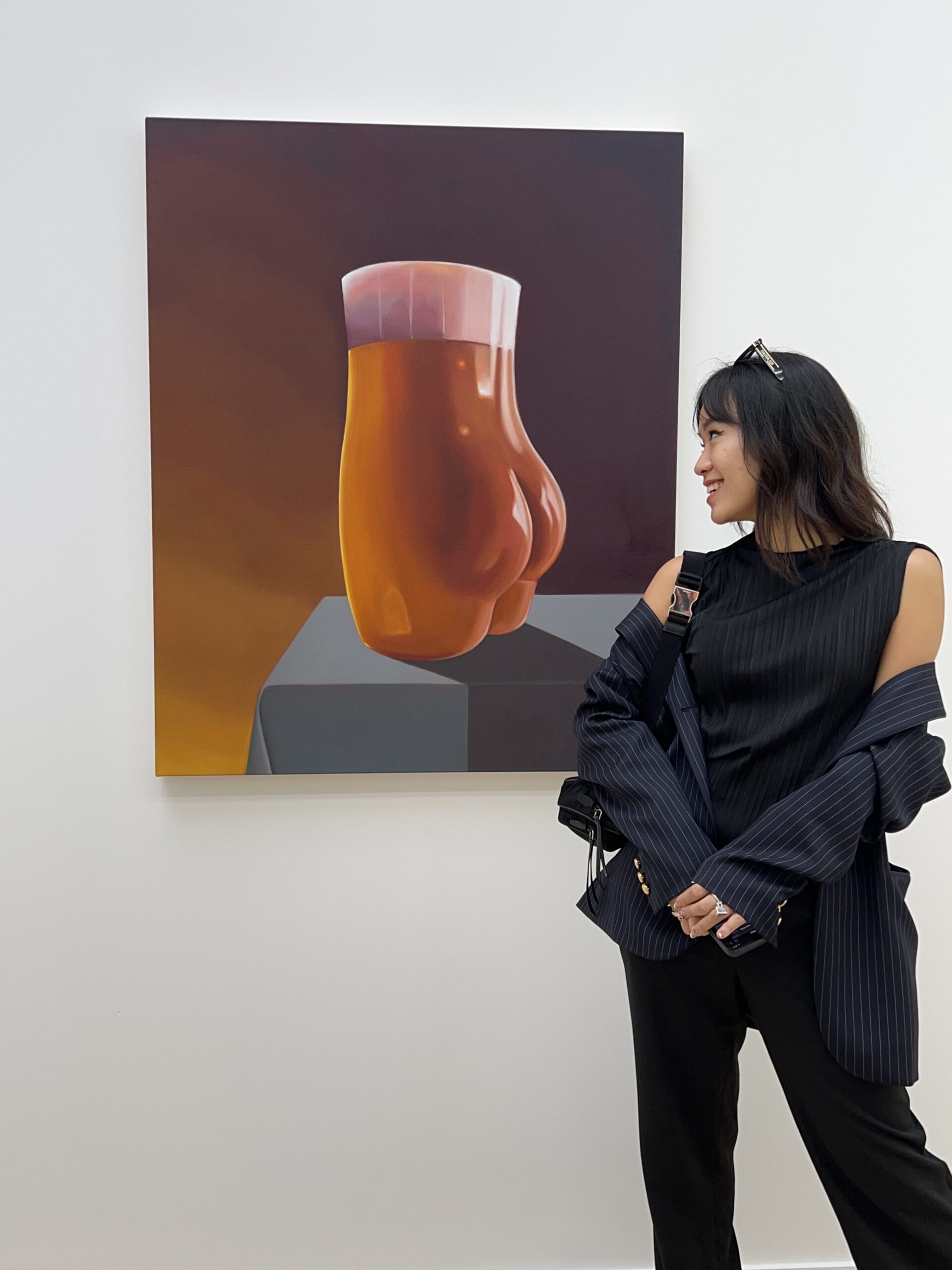 Monique Leong with Sally Kindberg, Sundowner, 2022.
Your eye for young artists is impressive and inspiring. How do you typically find new artists and how do you engage with them? 
The smaller-sized fairs I mentioned have been the best way to discover a range of artists in person and in a short time, but that requires follow-up research on specific artists I'm interested in. Recently, I've really enjoyed visiting artist residencies – once during their residency and again at their end of residency show – to understand the artists and their works in a more intimate setting. I would say my art Instagram is the best way to find new artists. As it is separate from my personal account, my art page only posts and follows art – it sort of acts like my own personal portfolio! This automatic filter allows me to still engage with art virtually throughout the day and the algorithm also makes the explore page more catered and refined to art only. I follow every artist I am interested in and conversations are easily sparked. Naturally, I maintain relationships with artists by keeping up with constant communication and visiting their studios so they are aware that I am genuinely invested in their practice. 
Which artists are on your current wishlist? 
Paul Rouphail has been at the top of my wish list for the longest time. I've been rotating my phone's lock screen between close-up photos of his paintings. So now I feel an internal pressure to find the right one for myself! Others are Kelli Vance, Marie Rosen, Nada Elkalaawy… and I'd say Oliver Beer is my holy grail!
Do you typically work with an advisor? How do you select works you acquire?
I don't work with an advisor for my side of the collection. I have learnt a lot watching my mother work with her advisor, but I think an advisor would be more necessary for higher value works, given the scarcity and limited access. With works I personally acquire, it's important to love the work without fully focusing on the artist's positioning in the market. I collect with the mindset that I will be living with a work happy forever rather than considering how much it would gain in value over time. 
What was your most recent acquisition?
Sally Kindberg, Sundowner, 2022! Sally is a Swedish artist based in London and I saw this work in the group show DOUBLE TROUBLE at Long Story Short Paris, formally known as Another gallery. When I returned to London, I had an awesome time visiting her studio!
Harold Ancart, Untitled, 2015. Leong Private Collection.
Joel Dean, Initial V and the Transformative Power of Symbolism in Storytelling, 2022. Leong Private Collection.
Annie Morris, Stack 8 Copper Blue 2018 & Daniel Richter, In Messern, 2020. Leong Private Collection.
Harold Ancart, Untitled, 2015. Leong Private Collection.
Joel Dean, Initial V and the Transformative Power of Symbolism in Storytelling, 2022. Leong Private Collection.
Any advice to young collectors or to those considering to acquire their first ever artwork? 
Many friends of mine are somewhat outsiders to the art world. They often come to me for advice and guidance as they find collecting fun and tempting. I always tell them to not rush and rather take the time to learn more before diving in! During my art hopping days, I often gather a group of art enthusiasts from different industries, so those who are unfamiliar can learn from the industry talk (we chat all things from differences between the primary and the secondary market, the current trends, how galleries work with an allocation system, and so forth)! Of course, speaking to artists directly is by far the best and most authentic way to connect with them and their works. The best art advice I've received is from Tobias Berger, my internship supervisor during my time at Tai Kwun Contemporary in Hong Kong. He would say "Attend every show, the good and the bad. Find out what makes them good or bad". This encouraged me to spend all my free time attending as many exhibitions as I could, to train my eye and build my own critical voice. In turn, it refined my taste before I began collecting and now I'm extremely happy to say there is not a single artwork in my collection that I regret acquiring or would consider letting go. My collection truly represents me and my journey discovering this exciting world!
We love that. Lastly, from newcube artists whom you know quite well by now, who would be your favorite artist?  
Pedro Ruxa is my favorite! I had the lovely opportunity to visit his studio. I love connecting with an artist's works being in the studio with them, and where essentially the creativity happens. The fact that newcube offers virtual and/or in-person studio visits to the public is great and I would highly recommend it to anyone, even if you didn't know too much about the artist beforehand! With Pedro, I am fascinated by his focus on color theory, and it comes with no surprise that he is in fact an assistant professor in Color Theory alongside his career as an artist. As Pedro meticulously and expressively transfers his expertise in colors onto his paintings, I feel like I am constantly learning about the history and theory of color, just as a viewer. I'm excited to see what's ahead for him, as I know he has some exciting news coming up in 2023…
Thank you Monique for all your insights and genuine look onto the art world! You wear many hats, a patron of the arts, a collector and a curator! We can't wait for our next art adventures together!