March 14, 2022
Molly Kent's Woven Narratives of the Mind
Article by Emie Diamond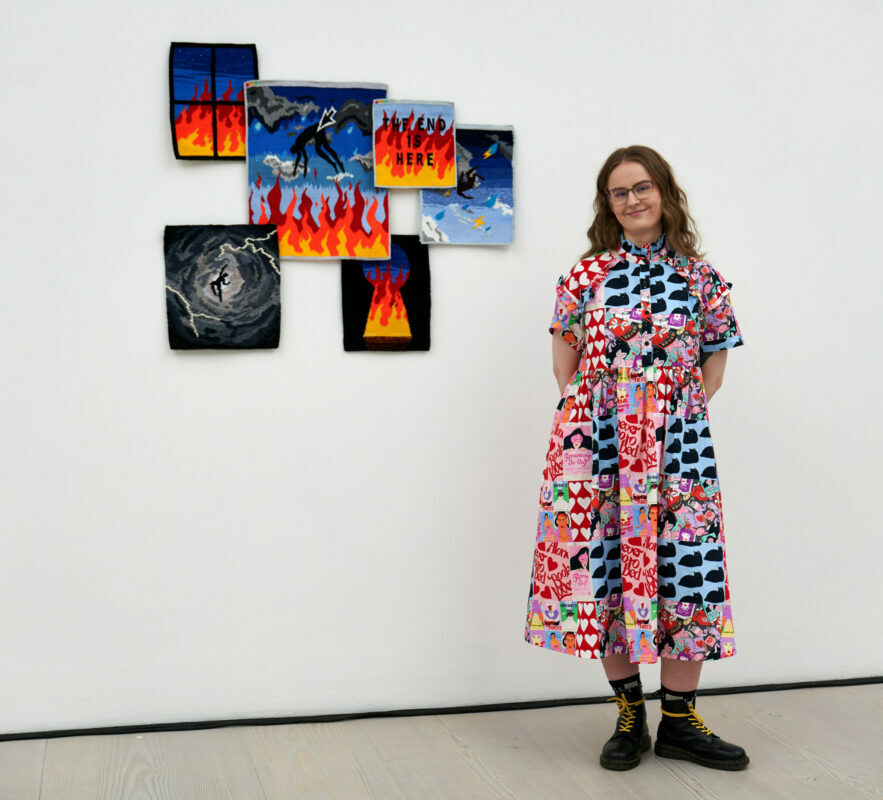 Artist Molly Kent in London
Viewing Scottish artist Molly Kent's charged textiles equates with delving into the depths of the human mind, from glimpses of existential doubt to the deafening silence in the eye of a hurricane. One envisages heavy clouds lingering on the edge of her consciousness and corners of her proverbial canvases, a foreboding ever-present shadow. Kent "gravitates towards extreme weather as a way of understanding mental health." The scientific is always relevant, hardly surprising for an artist who was pursuing a degree in physics before falling in love with textiles.
Kent's tapestries are simultaneously comforting and dark, highlighting difficult narratives in a soft, relatable medium. Further deepening the macabre tone, her textiles "came of a history," most often children selling the yarn of a mother who passed away. The second-hand nature of Kent's yarn enables her to experiment with new processes of textile art and various fibre content from nylon and plastic to recently acquired alpaca wool. The weaving process is a cathartic and therapeutic means of making, furthering her pursuit of a peaceful mind. Notably, the artist's tapestries have continued to increase in size over the past several years. Kent's large scale is akin to creating textiles that carry the weight of the overwhelming sensations she sets to record.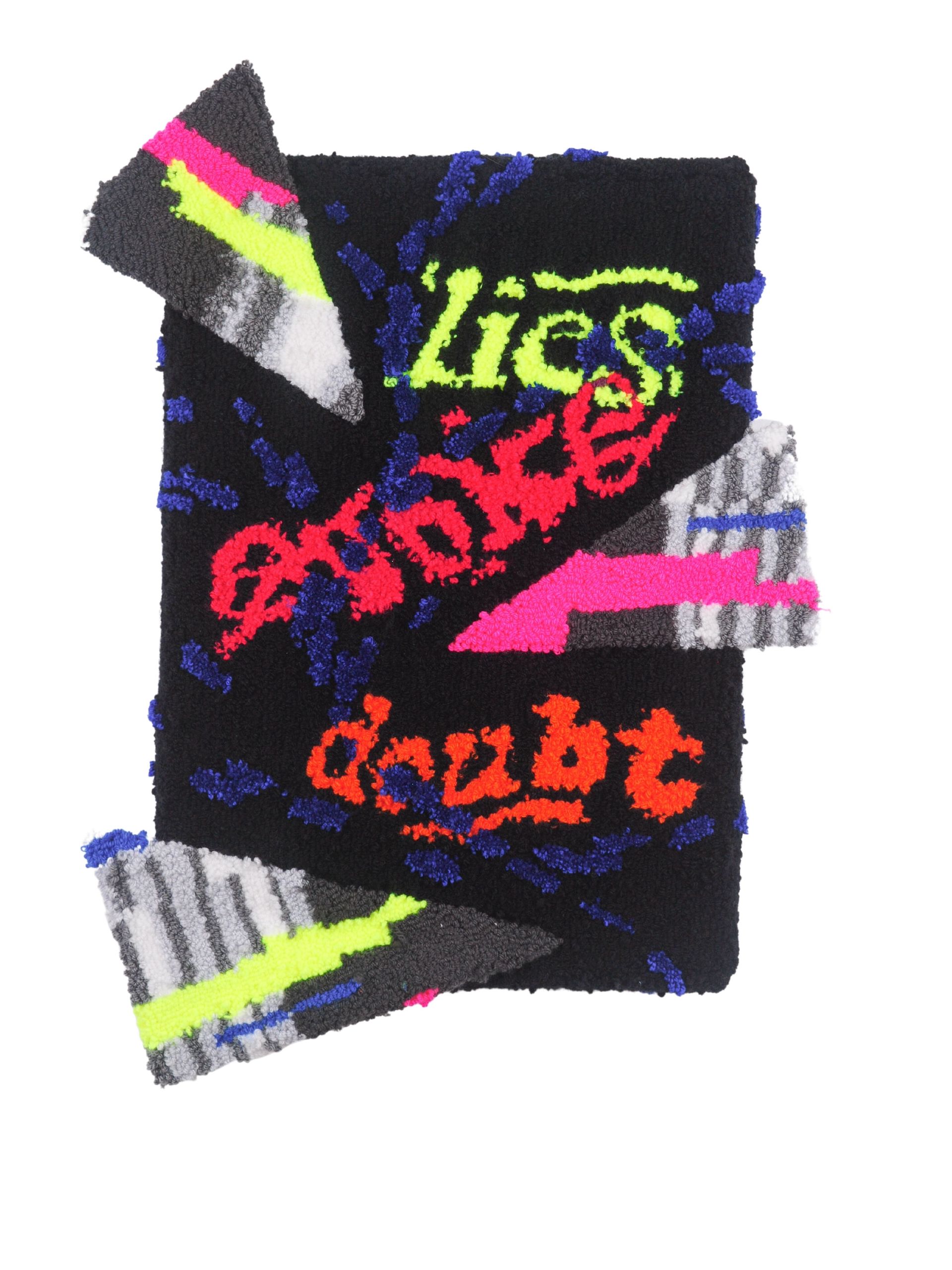 Molly Kent, Lies Evoke Doubt, 2020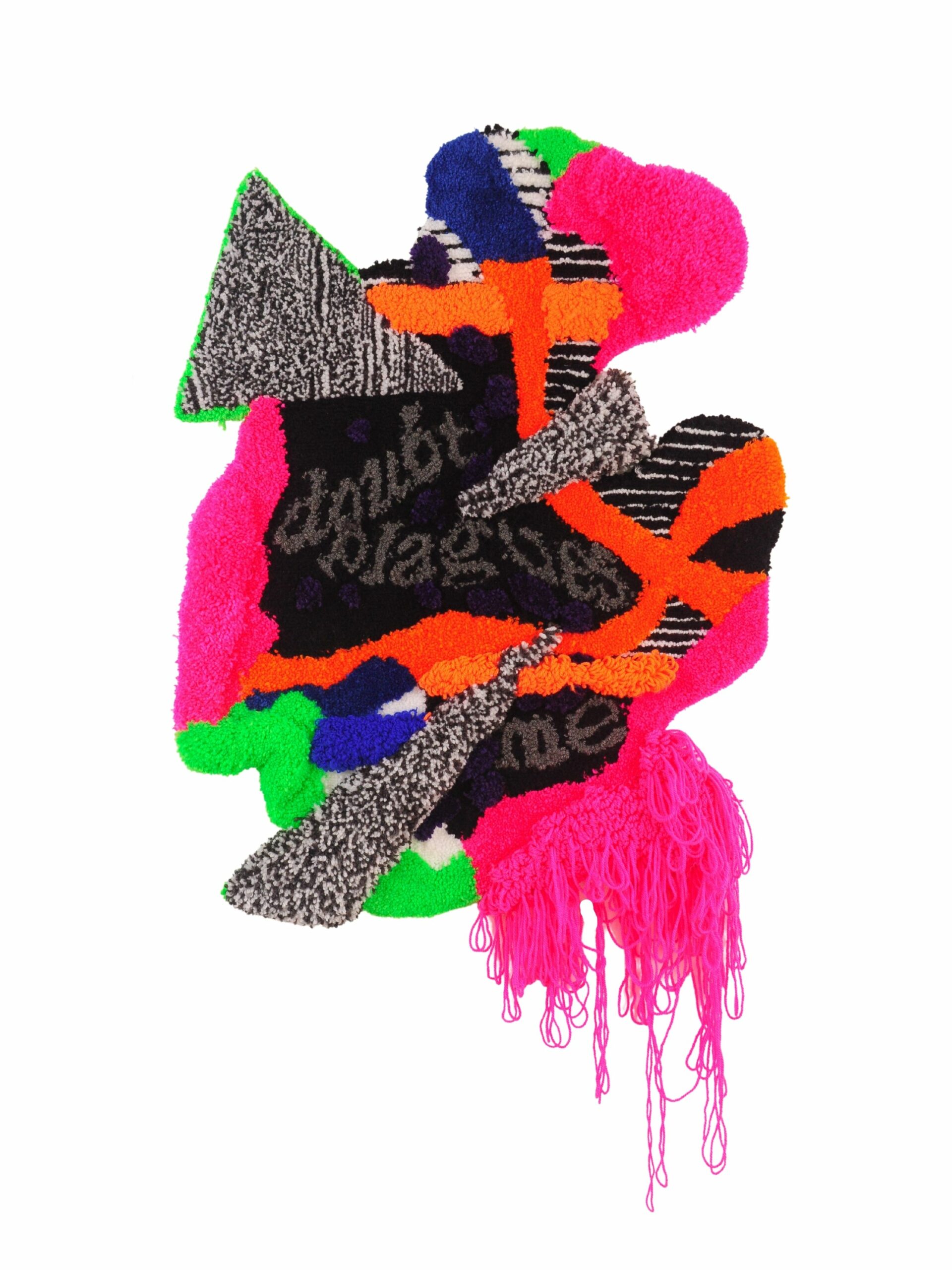 Molly Kent, Doubt Plagues Me, 2020
Kent's oeuvre is a visual diary, often referencing the digital language dictating our technology-consumed, modern lives. She utilises recognisable symbols and motifs punctuated by bright colours which 'accentuate the magical element' of her visions. Her colourful work Lies Evoke Doubt (2020) spurs a timely discourse about the detrimental effects of social media. During the widespread Covid lockdowns, where every form of human interaction went online, Kent recognised how this world exacerbating her self-doubt and paranoia. She acknowledges how relentless comparison to others can trigger a dangerously self-conscious mindset where "a rational thought [can be] turned into something irrational."
Roaring flames recurrently appear throughout Kent's work, as can be seen in Untitled (2021), Surrounded (2021), Surrounded II (2021), You Burn We Burn (2021), among others. She compares cognitive dysfunction to a burning fire that is nearly impossible to distinguish. Kent is intrigued by the duality of fire, as it brings people together for warmth and to nourish oneself, yet simultaneously can destroy lives and create chaos. Her talent is best seen through her piece Tightening Gyre (2020), where she touches on the paradoxical, eerily calm moment amid a breakdown. Deeply intuitive, Kent's voice retains an unmistakable tinge of optimism that to conquer personal challenges, one needs "to recognise there is an issue before there is anything [they] can do to solve it." Kent's brilliance exists in this poignant place of conflict, where dreams can become nightmares, and skies turn dark, suggesting that the stability of mother nature, like mental health, are forever hanging in the balance.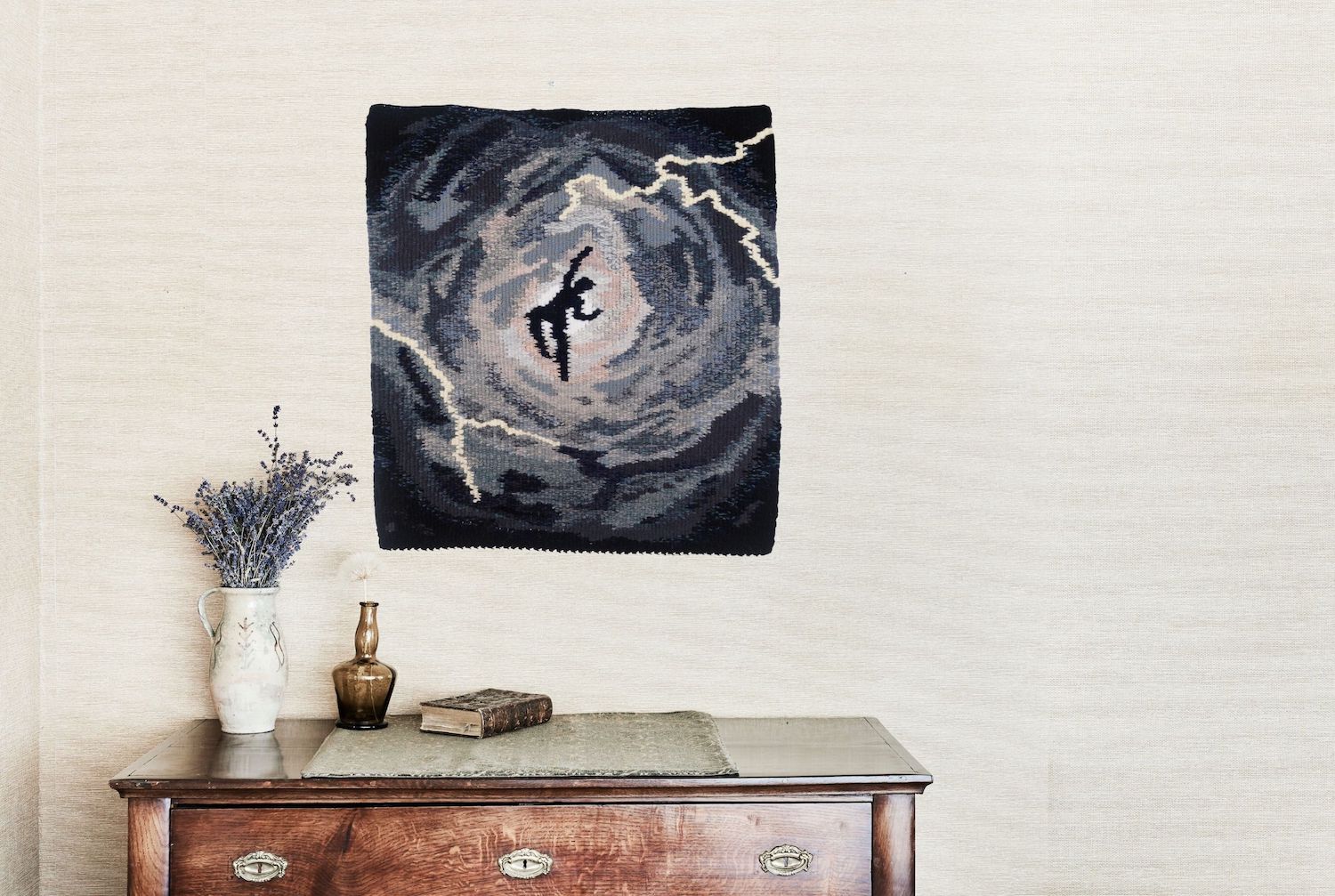 Molly Kent, Tightening Gyre, 2021
Discover more